How to Write a Resume with No Experience?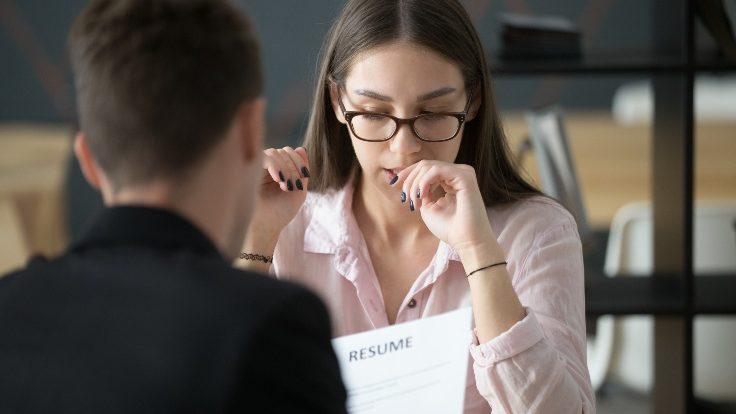 We all have to start somewhere. While you might be most familiar with a resume that lists detailed work experiences, there is a way to create a resume with no experience. This type of resume can still be effective in drawing the interest of recruiters and hiring managers.
Our free online resume builder is for everyone: seasoned pros, career changers, and even people like you who may have no prior work history. Let's take a look at what to put on a resume with no experience.
Start Your Resume with a Summary Statement
Think of your resume's summary statement as your opportunity to make a first impression. It's your introduction to a recruiting manager.
The statement should reflect your abilities, attitude, and professional goal:
Are you detail-oriented?
Ambitious?
Personable?
Motivated?
These are traits and skills for resume summary statements you'll want to include. Don't be bashful! (On the other hand: don't lie or embellish.)
Use specific achievements and successes when possible. Instead of stating "skilled at organizing events", state "oversaw a fundraising event for my community center that drew 5,000 attendees and raised $10,000 for recreational programs."
An effective summary statement for a resume with no experience might look like this:
Self-motivated, responsible individual seeking to discuss opportunities in child care. My three years of experience in babysitting children under 10 years of age will prove beneficial for jobs in daycare centers or preschools. Employed my creative skills to develop games and activities as a babysitter. Interested in obtaining an entry-level position in early childhood education.
Relevant Non-Work Experience
Immediately following your summary statement is where you will list your experience. You may not have specific work experience, but you have experience doing something. Some types of experience you might insert into this section include:
Volunteering
Internships
Academic projects
Organizational memberships
Did you belong to any clubs in college? Are you active in the PTA? Were you a leader on a team academic project? This is the type of information you will add to a resume with no work experience.
Volunteering
Volunteering is an effective way to build skills that are relevant to a work environment. Some skills that you could develop as a volunteer include:
Leadership
Organizational
Decision-making
Communication
Teamwork
Multitasking
Time management
These skills are applicable to many types of professional positions in all industries. If you have volunteered during your time in high school or college, this is certainly relevant.
If you oversaw any planning of organizational events, were involved in training other volunteers, or assisted in the development of any marketing materials, be sure to highlight these activities.
Adding your experience as a volunteer on your resume might look something like this:
Volunteer, Second Harvest Food Bank, Los Angeles, CA
March 2020 – Present
Organized two fundraising events that raised more than $1,800 for the food bank
Assisted in training new volunteers in distributing food to more than 350 families
Helped to prepare, package, and deliver meals to an average of 30 families per day
You would be amazed at how much a recruiting manager can take away from such an entry:
He/she will see that you are organized, can multitask, and have the ability to manage your time.
He/she will also note that you can apply interpersonal and communication skills to effectively train individuals.
This information could lead to you filling roles in human resources, warehousing, delivery, or project development.
Internships
When you have no formal work experience to list on a resume, an internship is the next best thing. Most internships are completed under the direction or supervision of a professional, so it's basically work without the monetary compensation.
The skills you developed and the exposure to a professional atmosphere will often be enough to satisfy a recruiting manager.
Be sure to list all responsibilities and any skills you came away with from your internship. No matter how trivial some details may seem, this is where you can shine on a resume with no experience.
An internship added to the experience section of a resume might look like this:
Social Media Intern, John's Major Corporation
September 2019 – December 2019
In this role, wrote posts on various social media platforms including Facebook and Twitter; uploaded digital photographs of products; wrote product summaries; created social media performance reports using Google Analytics.
Increased active followers on Instagram by more than 850 in a one-week period
Increased number of Twitter followers by 110% during my internship
Assisted in the management of Pinterest accounts for three major clients
With this listing, you can showcase your managerial, communication, and technical skills. This also shows your ability to work in a team setting and to handle various tasks across multiple social media platforms.
Academic Projects
Yes, Virginia, there IS a reason to add academic projects to your resume with no experience. An extensive project could have helped you develop a skill set that many managers covet.
An academic project could emphasize leadership, creative, critical thinking, decision-making, and analytical skills. If you worked in a team, then add collaborative skills to the list.
Give details about the project, not simply tools you might have used or the skills you developed. Following is an example of how you might add an academic project on your resume:
Robotics Project, Worcester Polytechnic Institute, Worcester, MA
January 2020 – May 2020
Acted as project lead to create documentation of project's progress from planning stage to prototype completion
Working with a 3-member team, created a robotic wheelchair prototype capable of transporting an injured person through a simulated environment.
Programmed the prototype to maneuver ramps, cross streets, and descend and ascend stairs.
Project meet all academic requirements to address concepts and methods of robotics and systems engineering covered throughout the engineering curriculum.
A recruiting manager can assess that you have strong leadership, communication, problem- solving, and organizational skills based on this information.
Organizations
List any positions you might have held within an organization. Vice president of a student council, treasurer for an arts society, president of a sorority, or project lead for an academic project are all worth noting. An example would be:
Alpha Kappa Psi, New York, NY (September 2016 – May 2020)
Known to be the oldest and largest business fraternity in the world.
Member & Project Lead
Oversaw a 12-member team to develop marketing materials for AKP
Ran a promotional event in which 2,300 branded t-shirts and pens were distributed
Designed a social media campaign on Facebook and Instagram in 2019 for product promotions
During my time as marketing project lead (2019), generated more than $5,000 in sales of promotional materials during the 2019 academic year
Educational Background
In many cases, a recruiting manager will look to see if you have the educational background desired for the open position. Since you at this time possess little in the way of work experience, you might choose to place the education section at the top of your resume.
List first the degree you obtained. If you have more than one degree, such as a bachelor's and master's, list the most recent first. Add the dates you attended the school from which you received your degree(s).
It could be helpful to add a bulleted list under a "Relevant Coursework" heading. If you are applying for a job as a marketing assistant and took such courses as "Introduction to Marketing", "Global Marketing", or "Integrated Marketing Communications", be sure to include them. You could also summarize what you learned in each course.
It is optional to add your GPA and whether you graduated with honors. This being a resume that does not contain particular work experience, this information could prove useful. These details reflect your work ethic, commitment, and strive for excellence.
If you do not have a college degree, you could add your high school information. Include GPA, combined SAT score (but include scores for the math and reading/writing), and any activities you were part of, such as a sports team or academic club.
How to Highlight Skills
If you are far along in your career, there may be more than 50 skills and attributes you can identify. It is important to narrow this down to the strongest ones. Ensure that each skill differs for
For the most part, you'll want to list transferable skills that are most related to the job you are seeking. Read over the job listing and pick out any specific skills the company is looking for in job candidates. Then list only those skills if you have them.
Skills are broken down into two types:
Hard skills: are those you developed through using specific tools or programs. Are you adept at using a particular programming language? Do you have technical writing skills? Can you perform bookkeeping tasks? These are all examples of hard skills.
Soft skills: are not specific to any type of job, but instead reflect one's work habits and personality traits that would serve them well in a professional environment. Soft skills would include the abilities to communicate effectively, assume a leadership role, or work in a team.
You could list hard skills under a "Technical Skills" heading following by a list under a "Soft Skills" heading. Or, you could simply list all skills under one "Skills" heading. Either way is acceptable.
Name which programs, applications, or tools you are proficient at in the Skills section. Bilingual? Add it here. You might present it this way:
Skills
Proficient in Microsoft Office (Word, PowerPoint, Excel); Google Analytics; WordPress
Programming: C++, JavaScript, Python
Bilingual: fluent (reading and writing) in Spanish and English
Remember, highlight those skills that are most relevant to the job you are pursuing. It would not be particularly helpful to state that you are proficient at accounting software for, say, a job as a graphic designer.
Other Sections You Could Include in Your Resume with No Experience
Does there appear to be too much "white space" on your resume despite filling in the experience, skills, and education sections? There's only so much spacing you can do between sections before your resume looks sort of bare.
But that's to be expected with a resume with no experience, you might think. But you do not want to turn off a hiring manager or recruiter by presenting a resume that looks as if it lacks content.
What to do?
Here are some sections you could include in your no-experience resume.
Hobbies & Interests
Including your hobbies and interest can reflect your personality and additional potential skills not detailed in the preceding sections. It could even support your experience.
For instance, if you add painting to your hobbies and are applying for a position in graphic design, this could reflect artistic skills that could stand out to an employer.
Hobbies you might list in this section are:
Woodworking
Playing the guitar
Exercising
Cooking/baking
Writing
Sculpting
Playing racquetball
Interests, too, can be indicative of additional skills and reveal your versatility. Examples include:
Gaming
Volunteering
Theater
Traveling
Antiques
History
It is suggested to leave out any hobbies or interests that might be seen as violent or affiliated with any specific political party or religion. Hunting, for example, might be better left off your resume, or your attendance at a particular church.
Awards & Certifications
Did you take an online course for which you were awarded a certificate? Did you make the dean's list in college? Were you named Employee of the Month at your part-time job? Have you received any professional certifications?
All of this type of information can and should be revealed on a resume with no experience. An Awards & Certifications section will display your abilities and traits such as dedication, work ethic, perseverance, and teamwork.
Examples of awards you could highlight here include:
Fellowships
Sports awards
Military honors
Performance awards
Published writings
Community service awards
Certifications from professional agencies or associations are added here as well. These might be in the areas of IT, marketing, project management, software, or even first aid. To list certifications, you would add the certification title, name of organization granting the certification, and the date earned.
Note: a professional certification is NOT an award or honor. Did you get a certificate for taking an online software class? This is not the same as achieving the Professional Software Developer certification from the IEEE.
OSHA certification, Project Management Professional (PMP) certification, and ISSA Personal Trainer certification are examples of what can be included in this section.
Resume Template for a Resume with No Experience
From professional resume templates to templates for resumes with no experience, ResumeGiants can help you produce a document you can be proud to put in front of recruiters and hiring managers.
You can use our free resume builder to create a custom resume. Or, take a look at our many templates and resume examples to get an idea of what your resume can look like. Get format details, find out what skills to put on the resume, and even get resume examples for specific job titles.
Resume with No Experience Example
[Robert Richards]
[Dog Sitter]
 
[64 Burnside Place, NC 27284   |   201-555-8210   |   r.v.richards@gmail.com
]
 
>> Summary <<
 
Resourceful, conscientious dog sitter with 3+ years of experience working at Furry Friends, Inc. Seeking a position highlighting my customer service, leadership, and problem-solving skills within a corporate setting, most notably in marketing or communications. Adept at taking on new challenges and finding solutions. Self-motivated, team player with strong organizational and interpersonal skills.
 
>> Experience <<
 
Lead Dog Sitter
Furry Friends, Inc.| Raleigh, NC
2018 – 2021
 
Lead dog sitter for weekend shifts.
Trained a team of 6 dog sitters.
Organized a marketing campaign that led to a 14% increase in customer base.
Focused on customer service and time management.
 
>> Education <<
 
Bachelor of Arts in Business Administration
Winston Salem State University | Winston Salem, NC
2018 – 2021
Honors: summa cum laude, GPA 3.9/4.0
 
>> Skills <<
 
Customer service
Leadership
Teamwork
Mentoring
Problem-solving
Office administration
 
>> Certificates <<
 
Advanced dog training course
 
>> Achievements <<
 
Developed more efficient bookkeeping process for Furry Friends, Inc.
Created a marketing campaign for Brand Company for my marketing capstone.
 
>> Organizations <<
 
Future Business Leaders of America
American Marketing Association
 

>> Honors & Awards <<
Named Employee of the Month, June 2019.

In addition to our free online resume builder, you can select the High School Student resume template to get a clearer picture of how your no-experience resume can be formatted. You'll see how to include education details, what information you can include in an Experience section, and resume examples skills.
How to make a resume with no experience is not as difficult as it seems, as long as you have the right tools and guidance!