Relevant experience on a Resume. What does it mean?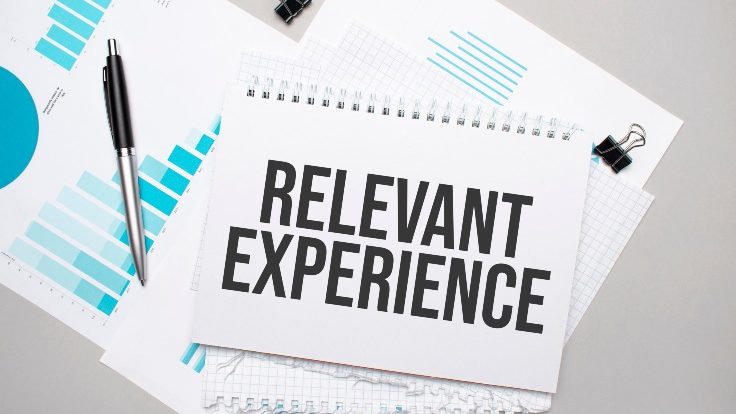 Do you think the time you spent as a volunteer at a community center cannot be connected to a job as an accounting manager? Take heed: ANY experience you have might be used in your job pursuit, no matter what position you are seeking.
In this post you will find:
It's called relevant experience, and you can focus on that in anticipation of being asked in an interview: "How is your previous experience relevant to this role?" You may lack specific work experience, but highlighting relevant experience can help your resume stand out.
Changing careers? Applying for an entry-level position? Have little or even no work experience? Whatever the circumstance, it is certainly helpful to cover relevant experience on your resume.
Relevant work experience examples should definitely be included when you're building your resume on our free online resume builder.
What Does Relevant Experience Mean on a Resume?
To include relevant experience on your resume, you'll need to understand relevant experience meaning. Then you'll know if you have the types of resume examples skills you should add.
Essentially, relevant experience means ANY experience that might have prepared you to take on the job responsibilities of the job you are currently seeking. You can develop skills and build knowledge through:
Volunteering
Internships
School projects
Freelance roles
Recreational activities
Part-time jobs
These opportunities and the resulting skills help demonstrate your abilities to a potential employer. Identify which skills in a job ad pertain to you. Then, list these skills for resume purposes when you're using our online resume builder templates.
What Counts as Relevant Experience for a Job?
Employers look for how the core competencies and skills you have developed might transfer to the role you wish to fill. It's best to list what you accomplished rather than what you actually did. Tasks you performed may not always align with a job description.
For example, stating "Developed marketing materials for a volunteer organization" is rather vague. It's more effective to say "Increased volunteer membership by 35% through the distribution of marketing materials."
Perhaps you were the leader on an academic project or in a part-time job. Include that information when you use the online resume builder if applying for a leadership role. Remember, the experience does not have to be within the same industry or have origins in the same exact position you are now seeking.
So, before you wonder how your previous experience as a shelf stocker is relevant to a warehouse manager job, think about what you achieved.
Maybe you came up with a system to get more products shelved in a shorter period of time; this might translate well to the managerial responsibility of moving materials more quickly from the warehouse to the consumer location.
Following are other resume examples of what would count as relevant experience:
Organizing a fundraiser
Serving on the board of a homeowner's association
Implementing a new inventory process on a part-time job
Acting as team captain for a recreational sports team
Creating a cost-effective software program for a school project
How Do I Know How Many Years of Relevant Experience I Have?
Unlike specific job experience, relevant experience cannot always be easily measured in a time range. For resume purposes, it's best to separate relevant experience from other tasks that have no bearing on the job you are seeking.
For example, say that you worked as a grocery store clerk for 2 years but assumed some managerial responsibilities during the last few months.
Now, you are applying for a position as a service manager in an auto parts store. Discuss your managerial role and detail only those responsibilities as this would have the most relevance.
To help with this:
Review the job listing for the position you are currently applying for.
Select any requirements that might compare to the tasks you have been responsible for in experiences.
List on your resume only the responsibilities that best reflect what the employer is looking for.
You might use bulleted lists under your work experiences or add relevant experience examples in your skills section.
Examples of Relevant Experience
Let's take a look at some examples of how you might refer to relevant experience on a resume.
Example 1
Perhaps you served as a summer camp counselor throughout your college years. Your major was marketing. Now, you are applying for a marketing coordinator position. So, your camp counseling experience might appear as such on your resume:
Summer Camp Counselor, Happy Kids Camp
2018 – 2021
Planned and coordinated recreation and learning activities for campers
Supervised eight counselors and kitchen staff
Maintained camp equipment and cleaned facilities
Communicated with camp administration about activities and any issues regarding camper behavior
Created materials detailing camp activities and highlights of the camp experience for current and prospective parents
In this case, you would highlight the fact that you coordinated activities, describing your coordination and creative skills, and explain the materials you designed regarding the camp.
You could also give details about how you communicated with administration, as this illustrates communication skills beneficial to a marketing coordinator job.
Example 2
Or, maybe you were a volunteer in a college student organization. You were in charge of arranging activities, increasing social media presence, and raising funds in addition to assisting in the cleaning of the organization's office. After graduating with a business degree, you are now applying for a position as a business development associate.
Using our free online resume builder, you would focus on leadership, communication, and organizational skills you strengthened in this volunteer role. All of these skills would surely be applicable to a business development associate.
This entry might look like this on your resume:
Member, Student Government Association
2020 – 2021
Organized special events to increase association awareness on campus
Developed social media posts
Managed fundraising activities
Since cleaning the office would not be relevant to working as a business development associate, you could omit this detail. However, you might include it if, for example, you were applying for a managerial position in a janitorial or cleaning supply company.
Example 3
Skills developed in an academic or part-time work setting can be added to your resume. You might have worked part-time in a retail store. Part of your job duties was to assist customers and arrange merchandise for displays. Below are resume examples of how you might mention the skills developed in this job:
Cashier/Stock Clerk, Bob's Retail Store
2018 – 2021
Applied communication and customer service skills to assist customers
Used organizational skills to set up store displays
Or, you could break out the skills in a separate section:
Key Skills
Verbal/written communication skills
Organizational skills
Customer service skills
Problem-solving skills
Then, you could go into more detail during an interview if asked, ""How is your previous experience relevant to this role?" Either way is acceptable and could draw the interest of a recruiting manager seeking candidates with these skills.
Ready to add any relevant experience skills to put on resume? Go to ResumeGiants, use our free resume builder and make the changes now to land your next dream job!