Free Google Docs Resume Templates
Google Docs resume templates offer a seemingly quick and easy option to create your file, but how do they compare with resume builders? Find out all you need to know about resume templates in Google Docs below.
What Are Google Docs Resume Templates?
It's fairly straightforward to enter and edit one of Google's specially designed templates. If you have a Google account you can access these immediately. If not, you will have to register and set up a user account with them before starting.
How to Create a Resume Using Google Docs Templates
It's fairly straightforward to enter and edit one of Google's specially designed templates. If you have a Google account you can access these immediately. If not, you will have to register and set up a user account with them before starting.
First of all, you have to enter Docs with your browser and click on the "Template Gallery" box in the upper right-hand corner. You can also get to the resume templates on the Docs app by clicking on the new file icon and selecting "Choose a template".
All you need to do then is scroll down the page and find the 5 free resume templates in Google Docs that the developers have specially designed.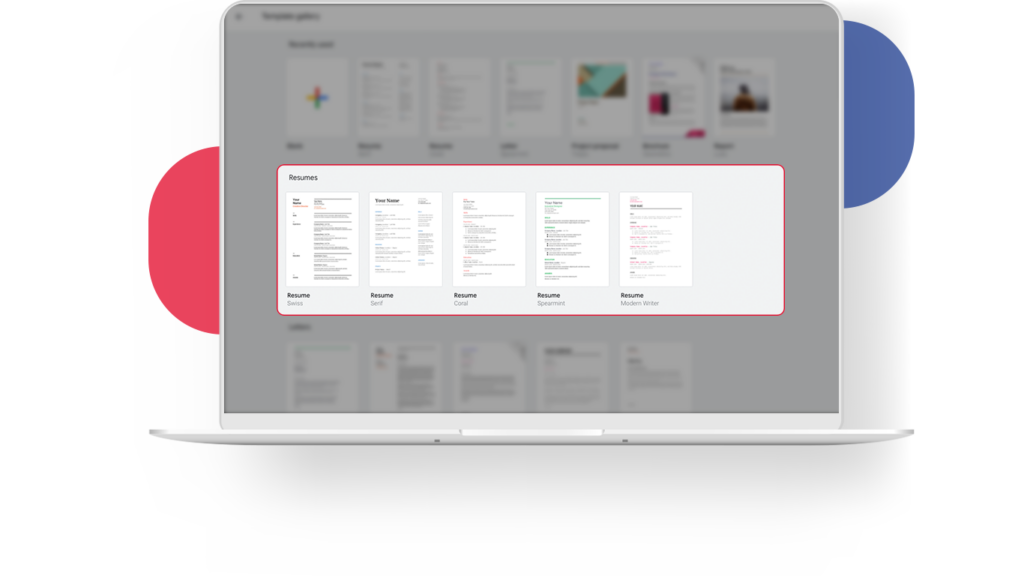 Take a look at our free templates
Free resume templates are popular online but which kind works best?
We've taken a closer look over some of the most common types you may come across to find out.
Advantages and Disadvantages of Using Free Google Docs Resume Templates
Google Docs does offer a free and relatively straightforward way of building a resume online but does it get the best results? There are a few advantages and disadvantages to consider to properly answer this question.
Advantages
Obviously, there are a few plus points of using a Google docs resume. The advantages of these templates include:
– Google Docs resume templates are free to use
– The template design is already prepared for your text
– You can customize elements of the templates like fonts and coloring
– Files save automatically
– It's easy to download and print files
Disadvantages
However, on the flip side of things, the disadvantages of using Google Docs templates include the following:
– Google's designs can be hard to edit
– There are only 5 resume layouts to choose from
– Templates often aren't optimized for ATS
– The available designs are very basic
– There is no help or support if you need assistance
Option in Google Templates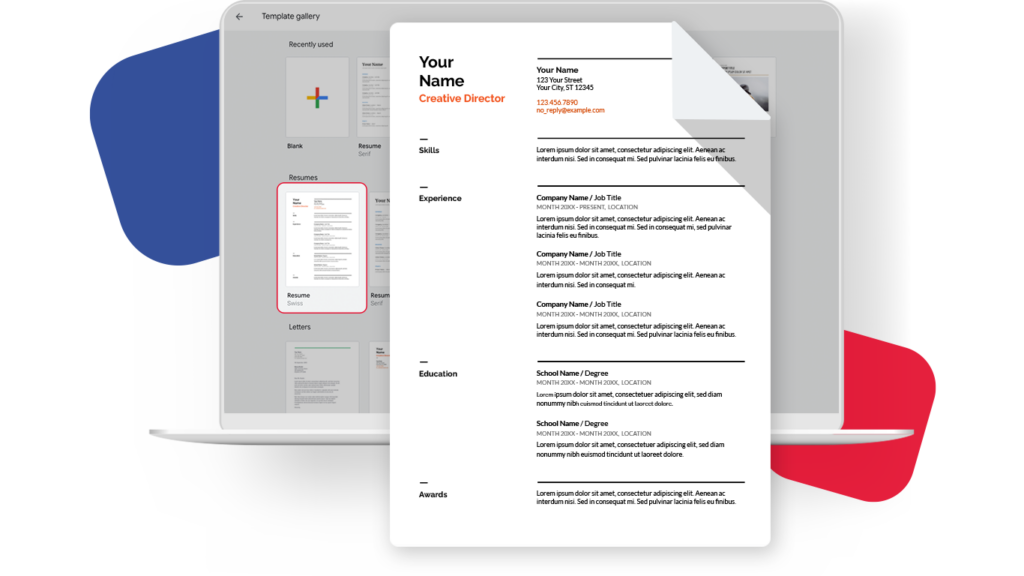 Option 1: Swiss
Swiss keeps things relatively simple by arranging all the information in a single column. However, it adds some extra space between the section headers and the main meat of the content to add a touch of extra emphasis and to make everything easy to navigate.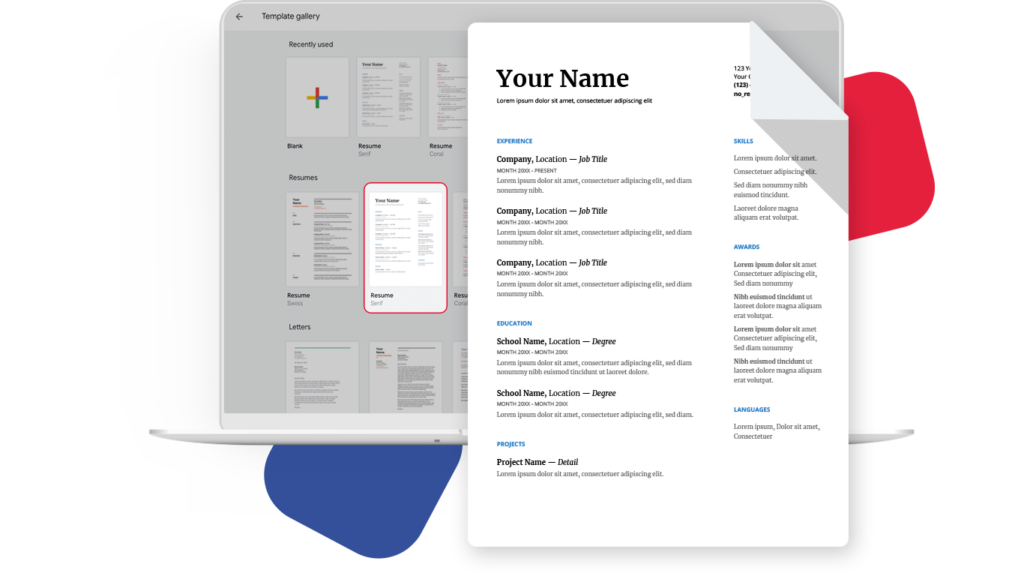 Option 2: Serif
Serif uses a two-column design to punctuate and draw attention to sub-sections like the candidate's skills, awards, and languages. However, experience is in the prime position and a little blue color is added to the headers to create extra flair.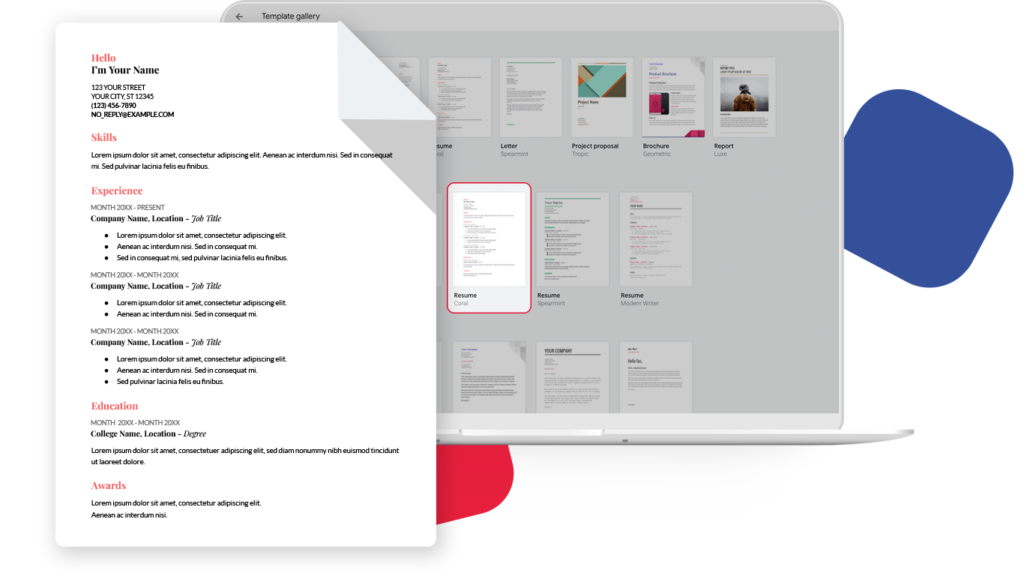 Option 3: Coral
Coral takes the tried and tested approach of using a reverse-chronological design for this rather simple resume template. It uses minimalism to convey the all-important information about the candidate on the page and keeps things easy to skim.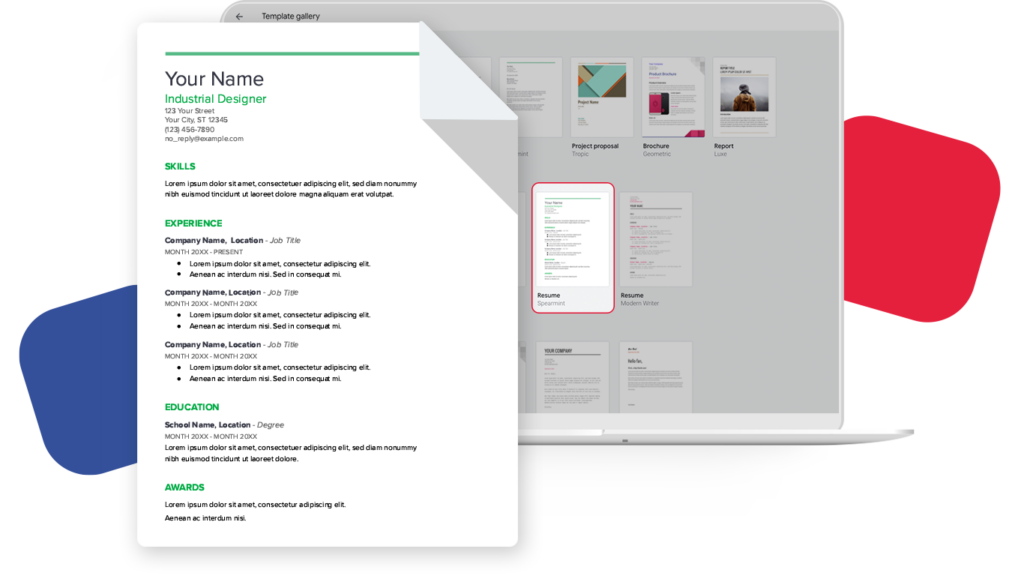 Option 4: Spearmint
The green color used to highlight the headers and subheaders gives a feel of freshness and creates a sense of ease in finding information on the page. A neutral font adds to this sense of simplicity.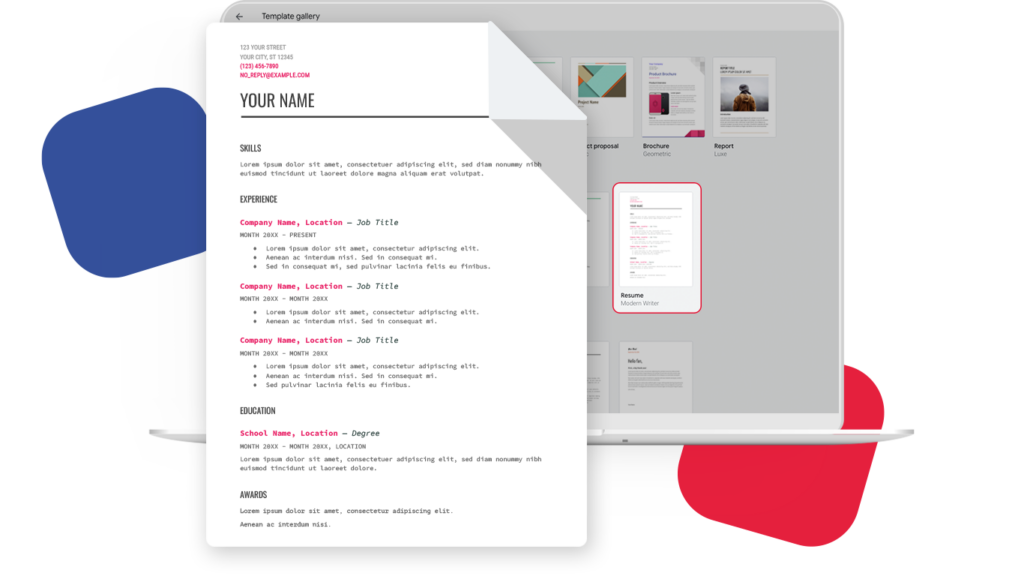 Option 5: Modern Writer
Modern writer also keeps with this trend of a single column design but adds a little extra style with its typewriter style of font. It has an attention-grabbing header to draw attention to your name and adds a few hints of red to help your past achievements stand out better.
Is It Worth Using a Google Docs Resume Template?
Google has done a good job creating a handful of fairly basic templates to help people create resumes using their software. However, there's no getting over the fact that there's little more to say about these designs.
None of the options available have a particular wow factor and there are very few to choose from. There also isn't much in the way of variety between the resume templates in Google Docs.
With so many free templates available online it seems a shame to use these fairly bare-bones designs when applying for a job. Whilst it is possible to edit the choices available this will often cause issues with the overall template design.
Why Using a Resume Builder is Better
Using a resume builder instead you can create something much more impactful visually. You will also be able to chop and change modules of the template instead of having to awkwardly tweak font sizes and dividing lines.
Not only that, but resume makers also help you optimize the information you fit on the page. They provide tips, guidance, and pre-prepared texts, which Google understandably hasn't included in its offering.
Is it worth using a Google Docs template? Really, there's no good reason to when better, more accomplished free options exist.
Be in the Top 2% Of Applicants That Get Hired.
Create your resume in just a few clicks and turbocharge your job search!