How to List Education on a Resume in 2022 (With Examples)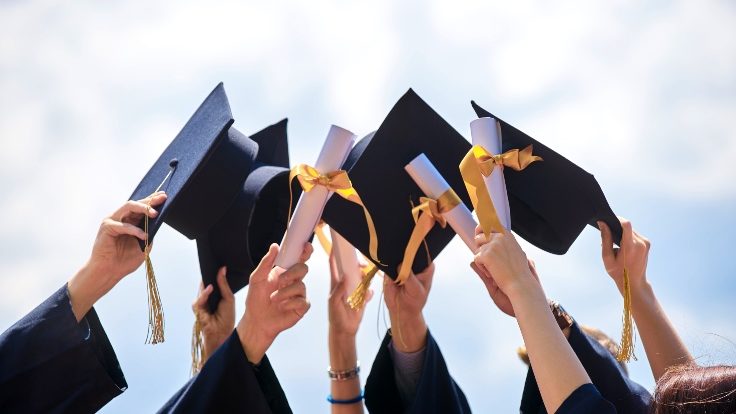 When you set out to write your resume, listing your education is a major component.
Depending on the industry you work in or the job you are applying for, you may need to alter the content or position of your education section.
Within this ResumeGiants article we'll show you how to list education on your resume, how to detail high school diplomas and higher education, as well as how to list education in process if you haven't yet graduated.
We'll make all of this easy to understand by providing many examples. Let's start!
How to List Education on a Resume
Listing education on a resume requires a specific format. To begin, you'll need to start with the most recent item first under the heading of "Education," and then work back in time.
So, if you have an advanced degree, you'd list that first, followed by your bachelor's degree and/or your high school diploma. If you have a few degrees, then you may also choose to not list your high school diploma, especially if you are short on space.
Take a look at the examples below and note that you can decide what level of detail to include.
You can add bullet points of your accomplishments academically, or you can keep things to the point and simply state the degree, school, location, and the year you obtained your certificate or diploma.
Here are a few examples of how to list education on resume.
1. Multiple Degrees on a Resume
M.Sc. Biology, University of California, California, 2019
BS, Life Sciences, University of Florida, Florida, 2017
2. Highlighting One Degree on your Resume
B.A. Psychology, Georgia College, Georgia, 2002
Graduated with a 4.0 GPA
Awarded the Entrance Scholarship
3. Highlighting a GED or High School Diploma
High School Diploma, Mackenzie High School, Richmond, Virginia, 2002
Where to Position Education on your Resume
There are 2 possible positions for your education on your resume, and you need to consider the type of job you are applying for and your current level of experience.
The first section, beneath your name and contact information, is the objective statement or summary section of your resume. Next, will be either your education section or your experience section.
Let's discuss 2 scenarios to illustrate when you should have your education positioned front and center, and when you should have your experience before your education.
When to Position your Education Before Experience on your Resume
If you are applying for a job that requires specific education, then you might want to have your education section before your experience.
Education could also be positioned first if you have limited experience.
This way you are highlighting the qualities that make you a good candidate without drawing too much attention to some skills or qualifications that you don't have yet.
For example, if you just graduated from school with a degree in business, but you don't have much work experience in the same field, you likely want to put your education first.
If you apply for positions in finance, the hiring manager will want to know you have a business degree. If you are changing professions, and this is your first job in finance, you'll want to highlight your education before your experience in another field.
When to Position your Experience Before Education on your Resume
On the other hand, if you have extensive experience in the profession already, you may want to have your experience lead, with your education listed next on your resume.
For example, if you are applying for a job as a manager in a restaurant, and you've worked for the last ten years managing wait staff in restaurants, then your experience shows how qualified you are.
Even if you have a certificate in hospitality, your specific experience shows you are right for the job.
As you can see, you'll have to use your best judgement about the placement of your education on your resume, but it should still be highlighted, even if it does come after your experience section.
Whether you have a high school diploma, a GED, or a higher education degree or certificate, you worked hard for that and should state it on your resume.
We'll show you exactly how to list your education on your resume in the following sections.
How to List your High School Education and GED on your Resume
Within the education section of your resume, you can list your GED or High School Diploma, just like you would any other degree or certificate.
Like the examples we shared above, you can also put a couple of bullet points beneath your diploma to showcase any academic achievements that are relevant to the job you are pursuing or that you are proud of.
Keep in mind that if you have a Higher Education Degree (or more than one post-secondary degree), you may want to leave your GED or high school diploma out of the education section.
It will save you some space on the page, and the hiring manager will assume you have your high school equivalency if you have a university or college degree.
To get you started, here are a few examples of how to put High School Education on a resume:
GED, Detroit, Michigan, 1995
High School Diploma, Alex May High School, Middleton, 2002, Honor Roll
High School Diploma, Mercy Tech School, Georgina, 2020
GED, Online Academy, Wisconsin, 2016
Depending on the resume template you choose, you may have the date first, or even on the next line. Use the template for guidance to keep things looking consistent throughout.
How to Put Graduate Level Education on your Resume
The same guidance applies if you have graduate level education to list on your resume. If your GPA was amazing, or you won a scholarship, you can certainly list those accolades.
You may want those additional details when your experience section is short, which may be the case if you are just graduating and looking for your first job.
Begin with the highest degree you've earned, and then work your way back to your bachelor's degree or your first college diploma. With advanced or multiple degrees, you can leave your high school education off the list.
Here are 3 different examples to give you an idea of how to populate the education section on your resume.
1. Single Degree/Diploma Focus
Let's start with a single degree, while highlighting a few points:
BA Art History, 2021
Northeastern College, NY
Graduated Magnum Cum Laude
President of the Art Society
4.0 GPA
Next, let's look at listing a single degree without adding any bullets:
Bachelor of Science, Nursing, 2000
Grand Bend College, New Jersey
2. Multiple Degrees
Finally, let's look at how you'd list multiple graduate level degrees on your resume:
PhD Aerospace Engineering, 2021
University of Toronto, Ontario
M.Sc. Mechanical Engineering, 2017
University of Waterloo, Ontario
B.Eng. Mechanical Engineering, 2015
Western University, Ontario
If it's important to the job you are hoping to land, you could add bullets explaining what your thesis topic was or what courses you focused on during your degree.
Adding Unfinished Higher Education to your Resume
If you are still in university or college, then you might be wondering how to list education in progress on your resume.
When you chronologically list items on your resume, you start from the most recent and work your way backwards.
For a degree or certificate that you haven't completed yet, you can state the date range as the start date to the present. Or if you are certain that you'll graduate in a particular year, you can state that year in the future.
Here are a few examples:
Bachelor of Education, XYZ University, CT, 2019 – Present
Master of Science, H University, NY, 2022
Electrical Technician, ABC College, Georgetown, 2021 – 2023
Hospitality and Tourism Management, BComm, XYZ University, Netherlands, 2022
Still Looking for Help with How to List Education on a Resume?
If you'd like more help with your resume, look no further than our online resume builder.
You can build your own custom resume to see where exactly to list your education, or you can download our free resume templates for inspiration.
Good luck!
Related posts
One-page resume? Several pages? The resume's length can vary based on one's unique needs. Read on to discover how long your resume should be. […]
Updated on January 7th, 2022