Modern Resume Templates
Modern resume templates incorporate the essential elements needed to succeed in today's job market. Learn how to design yours easily now using our expert online tools.
Modern Resume Templates to choose
What Is a Modern Resume Template?
A modern resume template is an up-to-date layout that includes the most important features and information that contemporary employers want to see.
This includes features such as:
Easy to find achievements
Simple and clipped description text
A lot of jobs need applicants to provide more details than ever about their online presence. Not only that but it's ever more common to come up against recruitment software such as ATS.
Older style resumes don't always cut it when up against these obstacles.
Modern designs, however, are specially prepared to deal with the present necessities of the job market. They can make it much easier to stand out from the crowd, target many of the latest job profiles, and adapt your experience to what recruiters expect today.
Why to Use a Modern Resume Template
Modern resume templates are useful as they are optimized for the elements that today's recruiters are looking for. They stand out in this regard from more information-dense older designs.
Whilst a lot of elements are added, lots of features, like overly-wordy descriptions, that were used on older-style resumes are also cut for conciseness. This helps keep things clean, skimmable, and focused only on the information the employer needs to see.
Modern resumes are also machine-readable and specially adapted to be submitted online. This way you won't get silently cut from the process before a human recruiter has got to your file.
What to Add to a Modern Resume
Before starting a modern resume template it's important to know what's new about these designs. In the sections below, we'll take you through what you'll need to get results from your creation.
Sections to Include in Your Template
Whilst modern templates are upgrades of conventional resume templates in a lot of ways, they still have some familiar requirements. For instance, it is still necessary to include the following sections:
Contact Details
Career Summary Statement
Work Experience
Skills
Education
Just because modern designs keep things more minimalistic doesn't also mean you shouldn't go into more detail where necessary. Consider adding 1-2 of any of the following additional sections that apply:
Achievements
Honors and Awards
Publications
Languages
Projects
Hobbies and Interests
How to Write a Modern Resume
Writing a modern resume is not a complicated process but care must be taken to get things right. In many ways, less is more, as it tends to focus on simplicity rather than in-depth information.

This means all the information you include has to be optimized so it focuses on the results, achievements, and responsibilities you managed in previous positions. This can be made explicit with extra subheaders breaking down this information into these individual components.

You can see how this works in the example: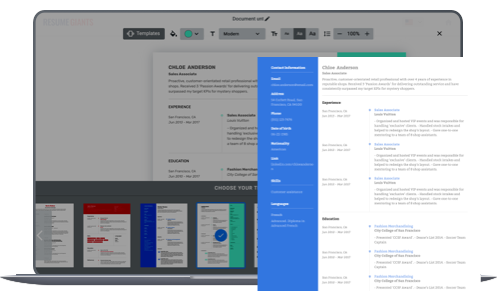 What this will result in is a resume that's quick to skim thanks to short sentences, bullet points, and hyper focused information. Of course, like with any resume you'll need to tailor these for the job you're aiming for.
Resume writing in the 2020s also involves including more details about your online presence. Luckily, modern templates can cater to this need by allowing space for components like links to your social media profile information or any websites and blogs you manage in your free time.
How to Format a Modern Resume Template
Generally, modern resumes tend to focus most on simplicity. However, styling the template right is still a key concern.
The main focus of any resume is to keep everything easy to read and skimmable. It is especially true for modern resume templates and your main consideration needs to be this.
However, a few old-school tricks still serve a purpose here. You should ensure that your resume makes use of the following style features:
Use of a little neutral color
Clear and easy to read fonts
Consistently sized text
Correct margin spacing
PDF and .TXT file formats
Where Can I Get a Modern Resume Template?
With ResumeGiants it's easy to create your modern resume template fully online. Our resume builder can help you create your file from the ground up and assist you in filling it all in for free.
Alternatively, you can try out one of the free modern templates offered by the likes of Google Docs, or MS Word. However, these might be more limited in choice and trickier to edit to your precise needs.
Why to Use ResumeGiant's Resume Builder
Our resume builder has everything you need to create the ideal modern resume template. This is available free for new grads and will support you in making sure your resume is unrejectable.
When you use our resume building tools you can enjoy the following benefits:
Try ResumeGiants professional resume builder now
Create your resume in just a few clicks and turbocharge your job search!