Microsoft Word Resume Templates
Resume templates for Word are commonly used but do they help get the job of getting a job done? Find out now as we look over the effectiveness of Microsoft Word resume templates.
What Are Microsoft Word Templates?
Microsoft Word offers users a few pre-prepared resume template designs that they can edit and adapt for themselves. This is quite similar to the options provided by competitors like Google Docs.
There is a broad variety of styles and layouts of resume templates you can pick and prepare for a job application. A number of these are free to use if you already have access to Microsoft Office and the Word application.
Download Free Word Templates
How to Use Word Resume Templates
It is relatively simple to access and use Microsoft Word resume templates, as long as you have the right software.
Word templates are free if you already have Microsoft Office, but if you don't you'll first have to buy the software and download Word or get a subscription to Office 365 to access and use them. In addition to the free templates for Word, you can also buy a number of specially designed premium templates for an additional fee.
You can select these options when you start a new file in MS Word. First of all, go to "File" and click on "New". You'll then be shown a selection of example templates for letters, invitations, and other documents.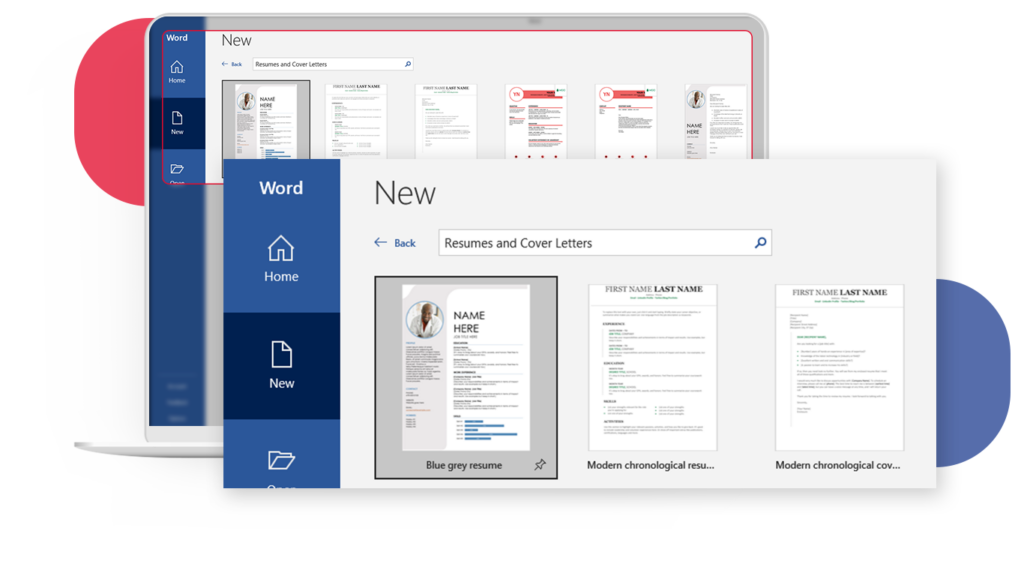 Select "Resumes and Cover Letters" from the "Suggested Searches" option at the top of the page to see the full range of options available. Alternatively, you can also type "resumes" into the search bar above the "Suggested Searches" to get there too.
Once you've chosen the resume template you like best, you simply need to select it from the menu and open the file. When you enter the template you only need to edit the placeholder text with your own details and you'll be ready to apply for jobs using it.
The Top 5 Free MS Word Resume Templates
There a quite a few resume CV templates for Word to choose from on Word. However, we've chosen 5 options that stood out from the crowd to review below.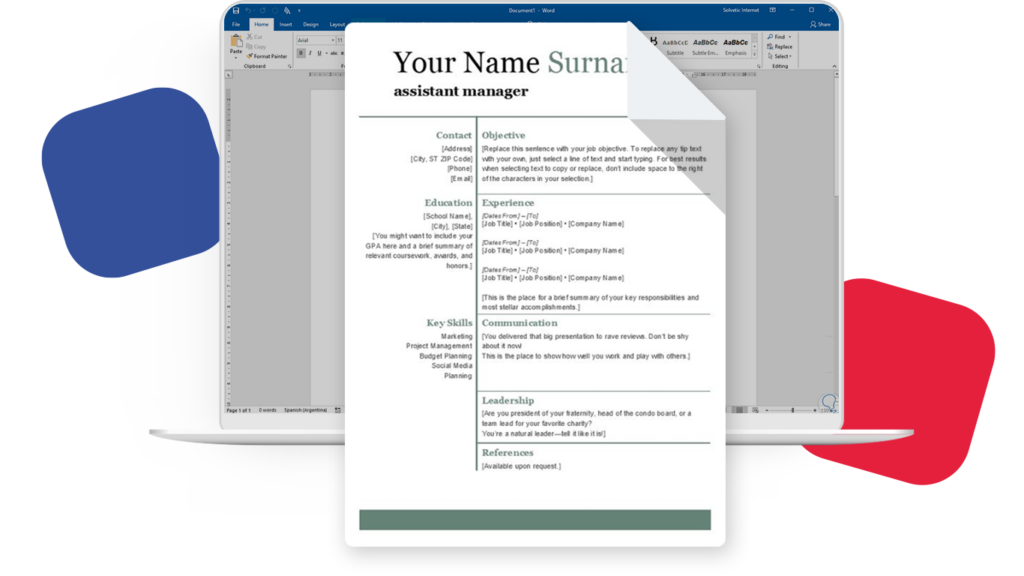 Option 1: Basic Modern Resume
Whilst this is a basic design, there is a bit more to it than merely the basics. Color plays its part in creating a striking and easy-to-follow structure and highlighting what information goes where.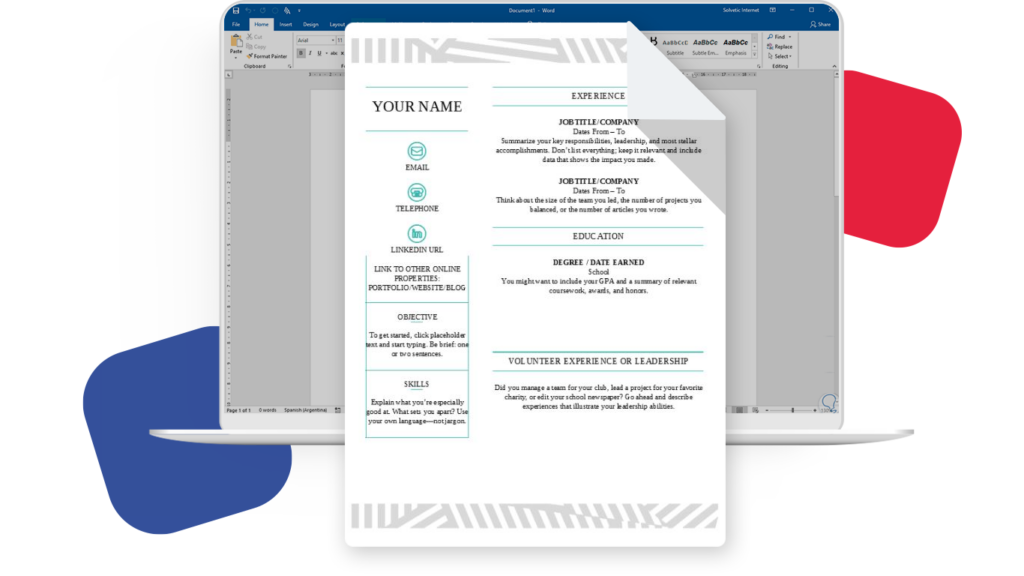 Option 2: Creative Resume
This template makes use of icons, and graphics to make it that bit more eye-catching. It leaves room for the most commonly used elements in today's job market including links to a personal website or blog and a profile URL for LinkedIn (which Microsoft also owns of course).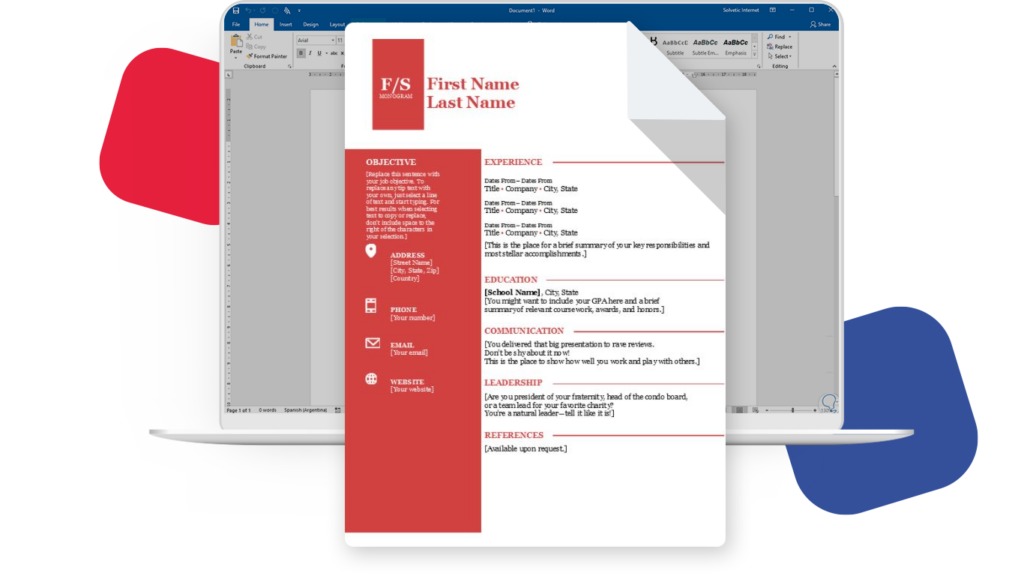 Option 3: Bold Monogram Resume
This monogrammed design adds a little style and class to your application. It makes good use of strong red color to highlight the sidebar design and the main headers to help everything stand out well.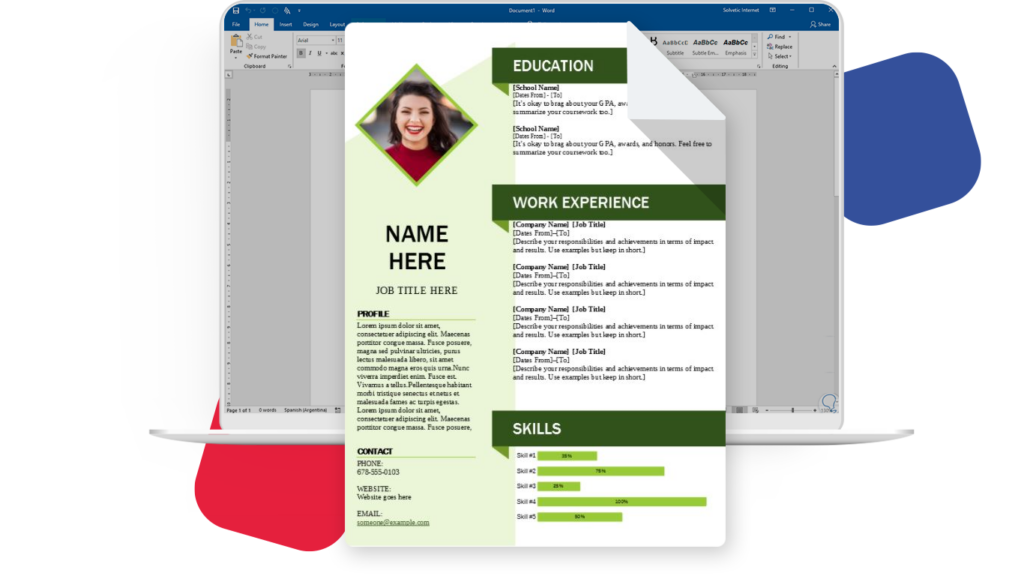 Option 4: Green Cube Resume
The visual style is the key to this design. With its fresh green color scheme and graphical headers, you can easily arrange all your information on the page. It also uses a status bar graphic to highlight the extent and quality of your skills.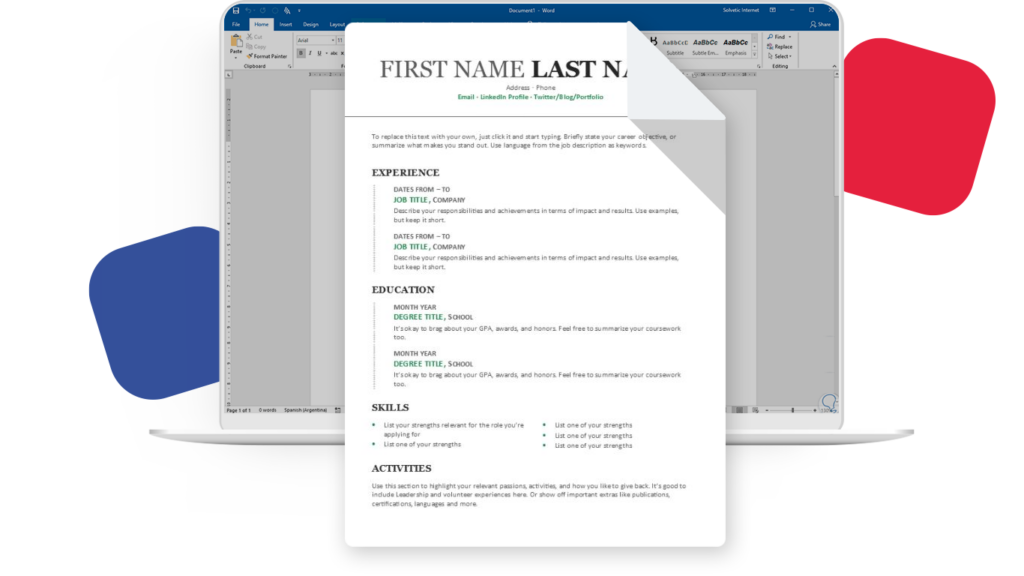 Option 5: Modern Chronological Resume
This is a quick and easy design to use that utilizes plenty of white space to help the text stand out. Aside from this, it contains the usual elements you'd hope to see on a resume such as bullet points, clear and easy-to-read font, and a good solid structure.
Pros and Cons of Using Microsoft Office Resume Templates
Is it easy or difficult to use free resume templates like those offered by Microsoft Word? Whilst there are a few advantages there are also a few negative points to consider before you create a resume using the software.
Advantages
The main advantages to Microsoft Word resume templates include the following points:
– It features some creative designs
– Professional-looking templates
– You can save resumes as a PDF or as a DOCX file
– Recruiters sometimes prefer Word files
On the other hand, when using MS Word to create your resume you may run up against the following disadvantages:
– They are hard to modify
– They aren't optimized for ATS
– Some of the styles aren't very up-to-date
– Templates usually don't stand out in the job market
Is It Worth Using a Word Template For Your Resume?
Having looked over what you can do with MS Office resume templates, you might be wondering whether they are worth using for a real job you're applying to? The answer in most cases is no.
Microsoft Word offers a lot of resume templates to choose from and some quite snazzy designs. However, the experience falls short when it comes to useability.
When you're applying for multiple jobs you'll need to make lots of changes to your template and unfortunately, doing this in Word is not as seamless as it should be.
It's very easy to break designs, exceed space limits that push text onto second pages and into columns, they shouldn't appear in. Even more importantly, you don't get much in the help of writing and filling the document.
Why to Use a Resume Builder Instead of Microsoft Word
It's much better to use a resume builder to write and format your resume, especially if you're a first-timer in the job market.
Using professional tools such as these, you'll be guided quickly on what to include not only in terms of sections but in terms of texts too. Using a service like ResumeGiants allows you to pick from pre-prepared texts and receive helpful tips and advice as you fill in your template.
Not only that but you'll be able to create a resume that looks unique to the reader. By putting this kind of care into your document you'll do a much better job of getting a recruiter to take notice of you than with a generic Word template.
Be in the Top 2% Of Applicants That Get Hired.
Create your resume in just a few clicks and turbocharge your job search!