About Us
ResumeGiants is a free online resume builder. Our mission is helping jobseekers to find their dream job. We provide multiple professional templates and optimize resumes with expert tips and examples. Our services are used around the world.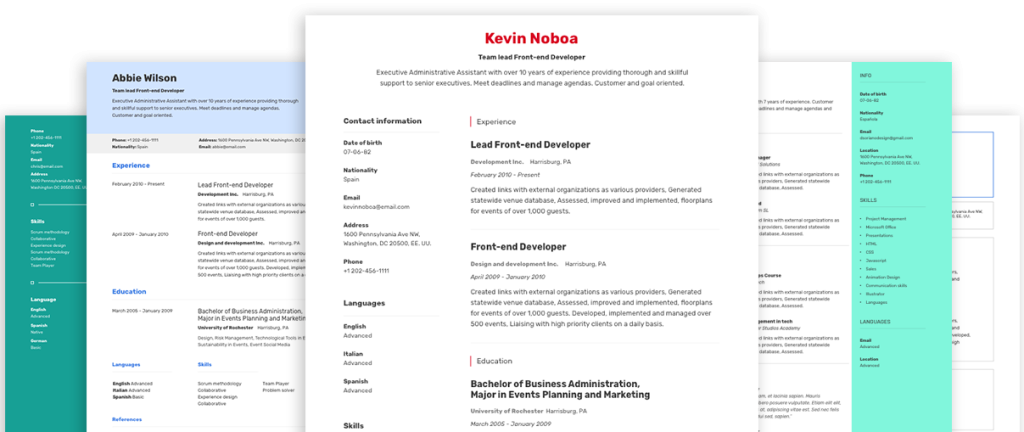 Our Mission
What Is ResumeGiants?
ResumeGiants is here to help provide all the support necessary for high school and college graduates and first-time job searchers to get their first job.
We can help you get ready for your very first job applications with expert resume templates as well as tools and tips on getting your doc right. What's even better is that this service is absolutely free to new users!
Being a young person in today's job market is tough right now and having the right help is essential. We're here to support you in that journey.
With our expert resume builder and editor, getting on a recruiter's radar has never been easier. Design and edit your doc from any device, get all the help you need deciding what to include, and easily download and print your files whenever you need them.
Our editor
Step-By-Step Support in Resume Creation
It's hard to know where to start when creating your very first resume. A lot of schools and colleges don't teach classes on this, so when you enter the real world you basically have to teach yourself.
Well, get ready for a crash course in resume preparation with the help of ResumeGiants. Our step-by-step instructions help you through this process so you can expertly add all the details you need to get on paper in just a few minutes.
When you leave school or college behind it's a nerve-racking time. This can be made much simpler with our help and support.

Expert Guidance for Grads
Searching for job it's a nerve-racking issue. This can be made much simpler with our help and support.
We've prepared all the tips you need to make the process a synch. Whether it's key advice on getting hired or pre-prepared texts to use in your resume, we've got your back.

Tried and Tested Resume Templates
Did you know that recruiters only spend about 7 seconds reading your resume before deciding whether you've made the grade or not? It's true!
Having a template that gets results matters and ResumeGiants can lend a hand with that. Our designs are specially prepared so you can optimize your file your way whilst keeping true to tried and tested tricks for success.

Totally Free For New Users
Let's be honest, you have got enough fees in your live. You don't need further costs on top of that when you're already trying to find a job.
That's why ResumeGiants costs absolutely nothing for new graduates. You'll be able to use all our tools from day 1 totally free. That way you can focus more on getting the best job possible.
We are Career experts
We offer free professional advice to guide people to the job of their dreams. We write expert content, tips and real resume examples to provide the best advice to increase your chances of getting that job
Find out what it is and how to add your relevant experience on your resume. Check out our examples to get a winning resume! […]
Updated on January 12th, 2022
A college freshman resume is the perfect template for when you're targeting your first internships and work placements. Learn what goes into these now. […]
Updated on December 2nd, 2021
Learn everything you need to know to create modern resume templates that get employers calling. Use our resume builder to design the perfect layout. […]
Updated on January 10th, 2022
---
Success stories from satisfied customers
Our aim is to help as many young people as possible get that all-important first job and we've helped thousands of people do just that. Hear what some of the people we've already helped have said about us.
Joe Forrester
Hammond, Indiana
"I didn't know where to begin with writing a resume. Using ResumeGiants made the whole process a lot easier "
Rachel Gregor
Houston, Texas
"I'd just graduated from college and I was struggling to get employers to notice my applications.
Thanks ResumeGiants! "
Kevin Brooks
Chicago, Illinois
"ResumeGiants was ideal for me because I struggle with what to write. I just followed the instructions and ended up with a great resume"