ResumeGiant's Free Resume Builder
Writing your very first resume is a big step. Make this task
10x easier with ResumeGiants' FREE profesional resume builder and
preparation tools.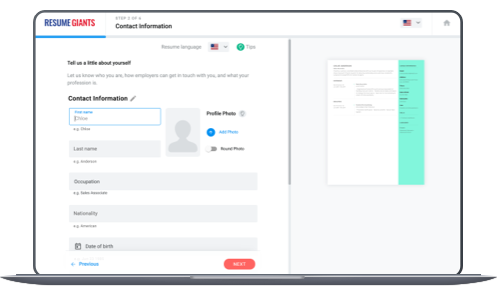 Our free online resume builder
Having a smart and stylish resume is the best way to get the attention of employers and ResumeGiants is here to guide you through this process.
With our free resume builder, you can avoid the stress, wasted time, and mistakes most people make when writing a resume for the first time.
We'll help you show why you're the best candidate for any job you apply for and make it easier to create a professional-looking resume that gets results.
How to Build Your Resume With
ResumeGiants
ResumeGiant's online resume builder is your helping hand when you're preparing a job application as a high school or college graduate. Our tools simplify the process and support you in getting
everything down on paper that recruiters want to see.
Select a template
We've prepared a wide range of stylish and eye-catching designs to choose from.
Fill in Your Information
Add your personal information with step-by-step instructions to guide you.
Edit and Customize
Add any other personalized touches you need to make your resume appeal to employers.
Why to Use ResumeGiant's Resume Builder
Using a resume or a CV builder is the perfect way to quickly and easily optimize your application and get on the radar of employers. The whole process of writing and preparing your job application is streamlined and made simpler with the help of our resume maker.
Find out below how you can create the perfect resume with our assistance.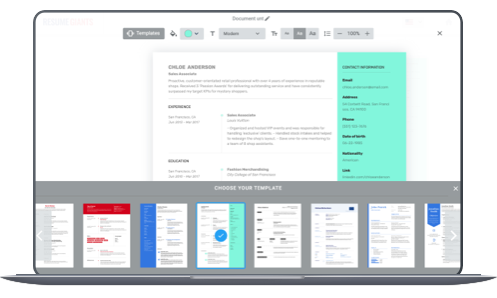 Create Your Online Resume Worry-Free
Creating a resume for the first time can be nerve-wracking. Fortunately, ResumeGiant's builder and editor tools take the stress out of creating a brand new resume with step-by-step instructions, expert tips and easily customizable templates.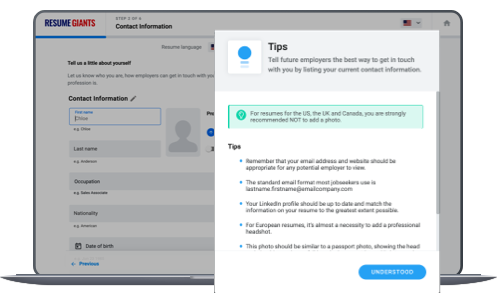 Write a Resume in Minutes Not Hours
Writing a resume without the right support takes a lot longer than having guidance. Our resume builder can help you every step of the way and let you shorten the amount of time needed to get results.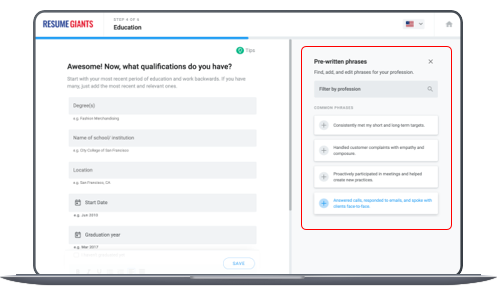 Learn How to Make Your Resume Stand Out
No one is a born a resume writing expert. They have to learn the essentials to get results. Our resume builder can give you a quick crash course in all the details you must include to get employers on-side.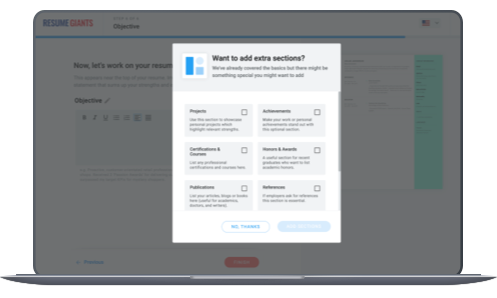 Get Hired Faster For Free
You'll have all of ResumeGiants' tools at your disposal absolutely free! Get the support you need as a new graduate to design and build expert resumes that employers will notice without paying big bucks for the privilege.
What People Say About ResumeGiants
We've helped a lot of grads get past those tricky first steps towards building their own resume. Find out what the experience of using ResumeGiants is like from those who tried it themselves below.
Susan Carter
Sales Associate
"ResumeGiants helped me create my very first resume out of college. It was really useful as I really didn't know what I was doing at the beginning. It made the whole process so much simpler and helped me get interviews almost straight away. Huge thanks ResumeGiants"
John Patrick
Events Coordinator
"I was beginning to think I didn't have what it takes to get hired in my sector until I started using ResumeGiants. I was able to see where I'd been going wrong with my resumes before and had a much better success rate with job applications."
Be in the Top 2% Of Applicants That Get Hired.
Create your resume in just a few clicks and turbocharge your job search!
FAQs About ResumeGiants
Before starting your very first resume you may have questions about how it all works on ResumeGiants. Find out more about the service we offer below.
A resume builder is a type of software that can help you prepare and fill in a resume template. ResumeGiants' resume builder lets you create your own resume in a few easy steps. Once you've finished your design you're free to go back and make any changes you need. Our template editor lets you customize any of the information you've included, the sections on the page or even the entire template design itself. If you're happy with everything you've made, you can simply download and print your final design. Once you've got your copy of the file you'll be ready to send it to prospective employers.
Yes, we really do offer our resume builder tools for free for everyone. We know that the first weeks and months out of college or high school can be a scary time, especially if you have loans to pay back. As a result, we let grads use our resources completely free for the first year they sign up with us to help them through this tricky transition.
We offer a wide range of special features in our resume building software including: – Optimized resume template designs – Step-by-step resume writing guide – Pre-written texts – Expert preparation tips – User support – AI photo checking – .pdf or .txt file downloads
ResumeGiants is available online from any PC, laptop or mobile handheld. You can access your files from any of these devices anytime by just logging in via the web browser on your system. Your data is securely synchronized in the cloud so you can easily make changes on the go. Enjoy complete flexibility when you want to target your perfect job.
Try ResumeGiants professional free resume builder now
Create your resume in just a few clicks and turbocharge your job search!