Listing Relevant Coursework on a Resume: Get it Right!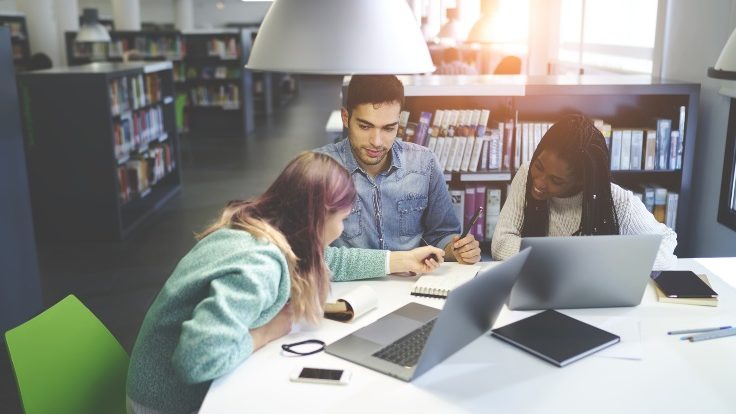 Offering a very thin resume translates to modest employment potentials for newbie job hunters. Increasing the chances of finding work is dependent on the impression you make on the recruiter.
The best way to accomplish this is to have a major asset up your sleeve to enrich your resume—your overall coursework. It might not seem as relevant, but showcasing your coursework in your resume shows you're a knowledgeable and well-prepared applicant for any position.
Featuring relevant coursework in your resume will build up your credibility—especially if you can share your projects and academic achievements that are relevant to the job you're applying for.
It's crucial to remember when you are making your resume that it should not be a catalog of volunteer work or an internship—but a tailor-made document that emphasizes the professional qualities you need to get the job.
But, what makes coursework essential on a resume?
More importantly, how does getting your coursework into your resume template make for a more professional impression?
Read on as we answer these and more below and discuss the importance of featuring relevant coursework in your resume.
In this post, you will find:
What is Relevant Coursework on a Resume?
A resume featuring relevant coursework consists of various courses you took at school, alongside the academic experiences that actually apply to the job position. The education section is the best place in a resume for coursework as it highlights your most hirable achievements concerning the role.
Still, both the subjects and projects listed must be relevant for the job position.
For example, being a debate champion has nothing to do with culinary arts. Instead, pointing out that you took and excelled in a class on economics at college is far more appropriate for that accounting position you're applying for.
It is also not important to list the number of subjects you studied as a students part of your resume coursework. The specifics of what you studied, on the other hand, will be what counts the most in the employer's eyes. Solely listing a course on resumes will not be enough in making those highlights stand out.
A resume with relevant coursework targets the skills vital for the target job and steers clear of stuffing the resume with filler information. The best approach to listing courses on resumes is to include projects, internships, and certificates you have acquired.
How to Write a Resume: The Ins and Outs
If you are wondering how to add relevant classes/courses on a resume, there are a couple of principles to follow for the best results.
When to Include and Exclude Relevant Coursework
Relevant coursework you add to your resume can include a past or present class you are taking or projects you were involved with. Not just that, it's also highly recommended to list examples of where you have competence in a given field, and the degree of experience that will interest your employer in taking a chance on you.
Some instances when you should include your relevant coursework on your resume are:
If you are a recent graduate. The education system aims to prepare students to join the workforce immediately. However, employers always want to see clear evidence of your core competencies, which can be conveyed via your coursework projects.
Lacking work experience. If you haven't had a full time job in your sector before, you can build credibility by including related resume coursework, thus showcasing your professional potential for the suitable position. Check our guide on how to write a resume with no experience and to make the most of your education and related coursework to catch the recruiter's attention.
A change of career. You may be a highly qualified professional in a given industry. Still, if you decide to change industry, you'll be forfeiting your status as an experienced professional and starting from scratch as a rookie.
Our free online resume builder lets you can add relevant coursework easily to showcase your professional potential, that, in tandem with your work ethic, can make you a good fit for your desired position.
When to Exclude Coursework from Your Resume
With all this being said, there are also occurrences when it's wiser to exclude coursework on your resume:
If your resume is too long. If you're blessed with both skills and work experience, you can afford to be selective and choose what's appropriate. Unless you have a crucial certification for the job, listing all the relative coursework may be misunderstood as a not-so-subtle attempt to impress.
Outdated coursework. You just celebrated your class reunion, but it's been20 years since your graduation. Times have changed, and with them, so has the curriculum used for college classes. So, it could be better to leave out some irrelevant details from the resume altogether.
Not relevant to the position. Let's not forget that resume coursework must be compatible with the job opening. After all, it's called relevant coursework for a good reason. So, if the coursework has nothing in common with the job you are going for, there's no benefit in mentioning the coursework at all.
How to List Relevant Coursework
Depending on the structure of your resume and the information you provide, there are several ways you can add relevant coursework to your resume. Remember, the entry-level candidate resume should not be longer than one page. Also, don't forget to mention online courses you've completed and to place the relevant coursework in the right order.
If a job requires educational achievements, put your education at the top of the list.
If a skill in the job posting appears to be a priority for your potential employee, you ought to list both relevant internships and projects that align with this desired skill.
The visuals of the resume are important, so consider a column or a detailed resume format. Below are a few different ways to list any relevant course on resumes. Look at them!
Single-column format
The single-column format is similar to the education part of the resume, promoting your relevant coursework in list form.
As a practical resume example, a candidate applying for a psychology job should include the following:
Bachelor's in Psychology
Columbia University, New York
Graduation: 2019
Relevant Coursework:
Learning and Cognition
Cognitive Linguistics
Social Psychology
Psychology of Emotion
Multi-column Format
If you have multiple skills you are looking to make the focal point of this section, consider a multi-column format. For each column, use a different header with the relevant courses listed underneath.
Example of a multi-column format:
Bachelor's in Information Technology
Pennsylvania State University, PA
Graduation: 2020
Related Coursework:
Application Development—developed IT concepts and skills for web development.
Human-Centered Design—research into increasing the usability of IT systems with a human-centric approach.
Networking and Telecommunications—studied transmission media, cybersecurity, and digital signal modulations.
Artificial Intelligence and Machine Learning:
Machine Learning: Studying the interrelation between AI and machine learning, its influence on business processes, and marketing teams.
Artificial Intelligence implications for business strategy: Acquired knowledge to guide AI integrations into current companies to implement strategic decisions.
Detailed Format
A detailed format resume goes more in-depth than just using the course title. It provides more specifics on the skills you may have learned in each individual course. This format will look more like the layout you're used to seeing under the work experience section of a resume.
Bachelor's in Marketing
University of Minnesota, Minneapolis, MN
Graduation: 2020
Related Coursework:
Global Marketing Techniques
Awareness of B2B marketing strategies, social media campaigning, public relations, and content creation.
Studied the relationships between businesses and how acceptance to marketing is modified in contrast to B2C.
Public Relations
Building contacts with editors, writing press releases, and pitching articles topics
Implementing public relations campaigns, hosting open days, and event promotion.
Retail and Sales Management
Learning the basics of marketing, copywriting, psychology of customers, analysis of data, and more.
Formulating and implementing a marketing plan.
Coursework on a Resume: Conclusion
If you include relevant coursework on resumes, you make it easier to communicate the value you can bring to a business. Keep the job description in focus when choosing what information to incorporate when listing courses on resumes, and where you position it on the page.
Whether you opt for an online design tool, or want to use the free online resume builder of ResumeGiants specifically designed by professional resume experts—the details you put in it will be just as important as the things you decide to leave out.
Remember, at the end of the day, a quality resume is your signal bonfire to attract recruiters to your position—and including relevant coursework in it can be the fuel that ignites your dream career.