Student Nursing ResumeTemplates: Examples & Essential Skills
Your dream of becoming a nurse is almost in reach. It's so close that you can taste it. But hold up! You can't turn up to a hospital for duty just yet! That will very likely confuse the doctors, other nurses and administrators if you just arrive without warning.
You'll need a job first!
With your student nursing studies underway you've already covered the valuable skills needed, to save lives and get patients back to good health.
However, there's another valuable skill that even the best nursing courses don't teach… And that thing is how to write a nursing student resume with no experience.
Before you make that final, final step to the job of your dreams you're going to need to get your New RN resume with no experience right first.
This part can be tricky. There are plenty of questions you're probably asking at this stage of your studies, such as:
How to get a nursing job with no experience?
What are good jobs for nursing students?
What do I even need to put on my student nursing resume?
How can I find nursing student resume examples with clinical experience?
Luckily for you, you're in the right place for student nursing resume examples and guidance.
This page will explain everything you need to know about how to make a resume for nursing students.
Nursing student resume examples need special care. This especially matters if you're aiming for a specialized role such as being a Registered Nurse (RN) or Licensed Practical Nurse (LPN) as these will of course require their own additional touches.
To help you become a pro resume writer, this nursing student resume profile guide will show you:
How to write a nursing student resume with no experience
Entry-level RN resume examples
How to double the amount of interviews you've been getting until now
The essential resume skills for nursing students needed to make your profile totally irresistible
Tips, tricks and words of advice for nursing students looking for their first job
The best ways to target entry-level jobs for nursing students
We'll also provide you with a nursing student resume template that you can use today to make hiring managers get hyped right away when you apply for a job.
Writing a resume doesn't have to take ages and make you to tear out your hair in frustration.
With our nursing student resume builder we can help you prepare yours today in just a few minutes with only a couple of clicks.
What's the Best Nursing Student Resume Format?
Have you ever seen just how many nursing student resumes Hospital HR managers get a day?
Well, it's a LOT. Sometimes more than 300 nursing student resume format PDFs.
This isn't good news for anyone wondering how to find a nursing job with no experience. Firstly the HR team is going to have a tough time on their hands.
Secondly it means your resume isn't going to get the time it really needs to be read properly.
You sometimes have as little as 7 seconds to impress the reader.
When you look at nursing resume examples as a new grad one thing always stands out.
No, not the amount of experience that's on them – although we'll get to that later. The format and the layout.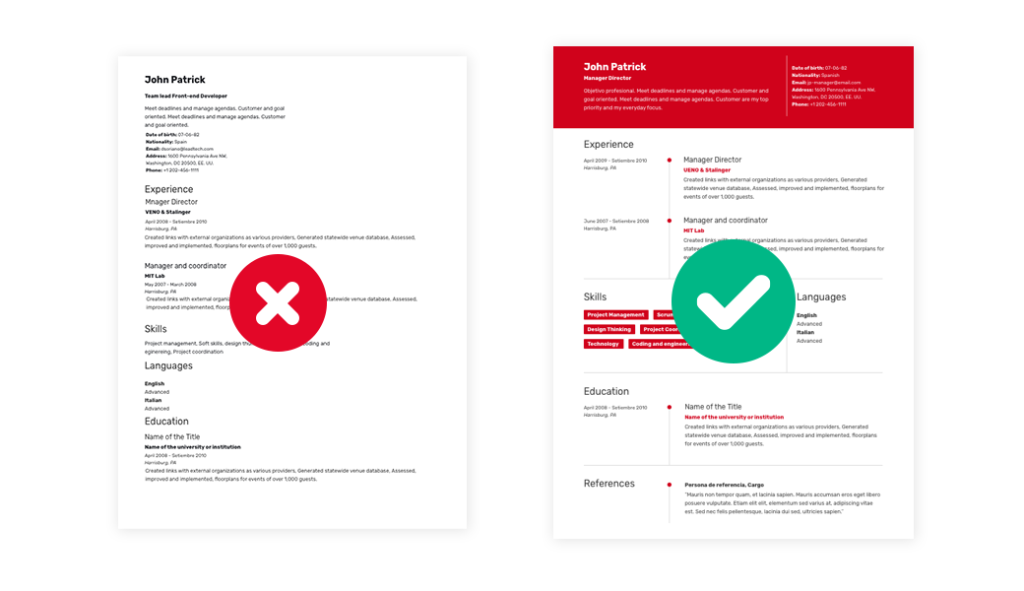 How Do I Choose The Right Nursing Resume Format?
All good resume formats, whether they are a nursing school resume template, newly registered nurse resume template, or a student nurse resume with clinical experience, have to be well organized to get the job done.
There is a trick to this. Although, there's no room for a nursing study guide template or nursing school notes template layout here. Things need to be a little refocused.
In most cases, you'll need a reverse chronological resume template. This puts your experience in a prime position.
What if you're writing an RN resume with no experience?
Don't panic, if you're really really struggling for ideas for your sample professional nursing biography template there are other options.
You might opt to try some nursing student bio examples with combination or functional format resume layouts. These put more emphasis on your skills and work best when there's less experience.
However, these should only be used if things get really desperate.
While nursing student examples for new graduates tend to focus more on your training and qualifications, even they will use a reverse-chronological layout
💡 Top Tip
Work experience is always your most important asset in nursing. Always make sure you promote it via the layout.
What Kind of File Format Should I Save My Resume As?
Once you've got your nursing student resume template free of mistakes, organized, and filled up with lots of eye-catching professional info about you, it's time to hit send or print, right?
Not quite.
Don't also forget that the file format you save your resume is a major factor too.
While a lot of people submit their nursing student resume template as a Word document – which is fine in some cases – it's much better to use a PDF or TXT file.
This can be crucial if your sample nursing student resume with clinical experience needs to pass through any machine reading filters like ATS when it's sent to the employer.
You don't want to get your file discarded early in the process because you got the format wrong after all.
How to Write a Nursing Student Resume Summary
"You got the job! You're now a fully-fledged nurse."
This is what you'll want to hear as a result of successfully getting picked for an RN or LPN job.
But before you can get to that stage you've got to remember something crucial: a new grad nurse summary for a resume.
This is something that people don't think much about. But you should never underestimate the importance of a good professional summary for a nursing student on a graduate nurse resume sample.
It's only a few sentences long, but in that short text, you'll communicate a lot to the reader.
To summarize this summary, it is a brief introduction to you, the person writing the resume.
It explains why a hiring manager should take you seriously as a candidate and – more importantly – gives the reader an incentive to look over your whole resume from start to finish.
So, what should you include in the career objective for a nursing student?
This usually depends on the precise job you're applying for.
For example, if you're applying for an LVN job you might talk up your credentials of working with the elderly.
Whereas if you're planning to work in a cancer ward you might talk more about how good you are at monitoring vital signs and taking samples.
Let's look at how we can make this work below.
Student Nursing Resume Summary Example
Writing a career objective for a nursing student role might sound pretty easy in principle.
It has some things in common with LinkedIn summary examples for nursing students you might have seen listed online.
However, the resume version is a little more restricted by comparison in terms of length. It also needs to communicate a lot about you succinctly without losing the reader's interest.
Just stating the facts in your summary without making sure they link to the job at hand might also leave you at a disadvantage.
Let's see an example of how NOT to write the summary for a beginner nursing student's resume first to get a clearer idea.
Wrong ❌
Nursing graduate looking for an entry-level position in a large city hospital. People dedicated individual with a patient-focused mentality and strong skills in handling decisions under pressure.
As you can see, it's fine. Yet it's still kind of "meh".
It's got some of the right nursing graduation wording you'd normally expect.
Unfortunately, it's unlikely to get much traction as it doesn't tell us how well you can do these things you've listed. You need to go into a little more detail than this.
Resumes also need to command attention, especially if you're writing a new grad RN resume objective statement. The example above simply isn't going to cut it.
For a stand-out nursing school resume objective, you'll need to demonstrate measurable achievements as well as the sort of skills wanted by the hiring team.
Below, you'll see what the hiring person at the hospital will really want to see on a new graduate nurse resume summary examples.
Right ✅
Fully licensed LVN with over 1 year's clinical experience working with Hudson County Clinic. Providing daily care with the help of proven skills in patient management, responding to emergencies effectively, and vital sign monitoring. Achieving 98% positive preceptor evaluations.
Now that's a graduate nurse resume objective statement you can take to the bank! Quite literally in some cases.
As we can see here, there's a lot more specific information about how long you've been working as a nurse and more insight into exactly what you did.
It shows a good combination of your nursing licensing information, relevant experience, and skills all in that short and sweet paragraph.
As you can see new graduate nurse's resume summary doesn't have to be a writing masterpiece. Nevertheless, it does need to hit all the right notes to get the attention you crave from recruiters.
How to Write an Entry-Level Nursing Student Resume Objective
Jobs for nursing students with no experience are trickier to target with a nursing student resume objective statement.
But they're not impossible!
In most entry-level nursing resume examples, you can find clever ways to whip up a tight summary even for specific situations like LPN student jobs, putting together a nursing student internship resume, or entry-level RN resume samples.
Getting in contention for the best entry-level nursing jobs may require you to get a little more creative, but it can be done without too much effort.
Let's look at how this can work below.
Entry-Level Nurse Resume Objectives
Even if you're still studying there's nothing stopping you from putting together an amazing summary for an entry-level nurse resume sample.
This might be needed for a nurse intern resume, or just general pre-nursing resume examples you're trying out before graduating.
Wrong ❌
Nursing student new to the profession. Eager to gain more professional experience via an internship.
The bad news is if you use a summary like that your chances of getting hired will be in critical condition.
We can glean plenty of what you want and need but the recruiter will be able to learn nothing about your strengths as a student nurse.
That's a major issue.
However, there are ways to make your pre-nursing student resume summary look a bit healthier, as you can see below.
Right ✅
Dedicated student nurse, with proven clinical experience over 2 semesters. Demonstrating strong skills in vital signs and ensuring patient comfort. Receiving 98% positive grading from my preceptor.
A new nurse resume objective is obviously going to have to compromise with the fact you won't have much experience.
However, you will have had practical training with measurable results that you can use in your favor.
This will help you stabilize your situation and get you on the right track.
How to Describe Your Nursing Student Experience
Nurses have to be prepared for anything.
So does a sample resume for new graduate registered nurses.
Clinical experience on your nursing student resume is going to be your key to getting noticed.
This is going to need a bit more than what you used to create your original sample resume for a nursing school application. Things have moved on a little by this point.
A nursing student resume with clinical experience can provide details about your actual work in nursing via a few different sources such as:
Internships
Volunteering
Practicar clinical experience with your preceptor
Of course, even if you're fresh out of nursing school there are also plenty of decent no experience nursing jobs and internships out there to take advantage to get the working practice you need.
It's not just what you feature in your experience section it's how you talk about it that counts too.
Getting plenty of clear nursing clinical experience on your resume is key to getting the best jobs for nursing students.
Right now you're probably wondering how to write clinical experience on a resume?
Let's look at some examples of resumes for nursing student graduates and the experience they normally highlight in a bit more depth.
Nursing Student Resume Examples: Experienced
When you have a bit of clinical experience on a resume as a nursing student you'll have a good shot at getting on a hiring manager's radar.
But, you've got to be careful how you add the information on the page.
A recruiter wants to see something that fits their vacancy as exactly as possible.
So in a way your resume is a bit like a shape being put into a kid's shape sorter. It has to fit the right-shaped hole figuratively speaking.
This means that generic resumes won't do.
With that in mind, let's see how not to do it.
Wrong ❌
Nursing Assistant
Hudson Medical Center
2018 – 2019
Responsible for the care of numerous patients.
Collected test samples.
Monitored patient vitals.
On this sample nursing student resume your application might need a crash trolley as this is heading straight for the job application morgue.
While it lists relevant activities that a new nurse would do, it doesn't go into nearly enough detail.
You don't just want to be some other nurse in the hiring process. You want to be the top nurse that everyone wants to interview.
Let's now look at a more accomplished new grad nursing student resume with clinical experience.
Right ✅
Nursing Assistant
Hudson Medical Center
2018 – 2019
Supervised 8 patients, providing a caring environment and safely administering medication and pain relief.
Collected and reported test samples and updated patient charts promptly, receiving 96% positive feedback from my preceptor.
Monitored patient vitals and planned care based on their condition.
Now this example, by comparison, tells you a lot more about what this candidate has done AND, crucially, what they've achieved.
There are clear instances here of what you did and how well you did them. This will give someone reading your new graduate nurse resume template much more info to go on.
Even pre-nursing jobs for students want to see clear examples on a new grad nursing student resume.
This is a bit trickier but can still be done like a pro. Let's look at this in more detail in the next section.
Entry-Level Nursing Student Resume: Experience Section
If you're putting together a new grad RN resume with no experience to get your first practical nursing student job you might not know where to start.
Finding a nursing job with no experience can feel like a scary thought at the beginning.
If you're writing a nursing student resume for an externship, a nursing student preceptorship resume, or a nursing student resume for an internship you still need to be able to show some experience, while having very little.
What to do?
Luckily in nursing, you'll already have some of the clinical modules of your nursing course to fall back on. These will fit most pre-nursing job descriptions.
Unlike getting into other professions with no experience, you shouldn't dwell too much on pulling in evidence of any or all practical work you've done. Just stick to nursing.
Below is an example of what you shouldn't do.
Wrong ❌
Student Nurse
St John's Nursing School
2021
One semester of nursing experience.
Other experience:
Bar work
Waiting tables
Babysitting
A student nurse extern resume or any resume for a new nurse should only be focused on nursing.
Instead of briefly paraphrasing your experience at nursing school, you should get in-depth and really explain what you've been doing there.
As you'll find in most nursing resumes or nursing internship essay examples they tend to focus more on pinpointing your clinical training in depth.
Let's now see how it should be done.
Right ✅
Nursing Intern
Hudson Medical Center
2018 – 2019
Shadowed RNs to gain experience in triaging, monitoring vital signs, and taking samples.
Followed HIPAA carefully during all my duties.
Achieved 94% patient satisfaction rate during my placements.
It doesn't matter if you're still at college.
Any and all practical experience you get as a nurse should be the only thing you focus on when you write a nursing student resume with clinical experience.
Does Your Education Section Need Emergency Treatment? Don't Lose the Recruiter!
So you've got a great experience section in your entry-level RN resume. That's a good start.
But, oh no? There's still something missing.
As a new grad nurse with no experience, you're going to be relying heavily on your education section to get noticed.
Most nursing school resume examples will need to at the very least add information about your college course. This should include:
The name of the nursing course
The name of the college or institution
The number of years you studied there
But this isn't all you should do with your resume for nursing school application. You should also add details about the coursework you did, especially if it fits the general job description.
Nursing Student Resume Education Section Examples
No experience registered nurse jobs are always interested in your licensing and training even if they aren't so worried about your professional on-site work.
Therefore, your education section needs to give them the info they want to see and fast.
Let's look over the LPN student resume example resume below, that does this right.
Right ✅
Associate of Applied Science Degree in Nursing with LPN Certificate
Mississippi Gulf Coast Community College
2017 – 2020
Completed 3 semesters of clinical experience and nursing internships.
Achieved GPA of 3.6
Commended for patient education, vitals observation, and wound dressing
Now, you might have to check the vitals of the recruiter after this as they're going to be pretty pumped to see an education section like this from a registered nurse with no experience.
This version works for a lot of reasons, firstly because it's clear about the course that was studied.
💡 Top Tip
You don't need to get over-detailed with your education when writing a nursing internship resume but it should show enough of your achievements to get noticed.
There are of course lots of certifications nursing students can get so it's super important to be specific and to ensure you're showing the right licenses for the job available.
Not only that, the new graduate RN resume sample gives a clear picture of what the applicant achieved when they were studying.
There are explicit examples on this nursing school resume of how well they did on their course by demonstrating their nursing student accomplishments on your resume.
Yet, while the previous example is looking healthy, what about an example of a nursing student resume sample that might be in need of some urgent medical attention?
Let's look over one of these below.
Wrong
Associate of Applied Science Degree in Nursing with LPN Certificate
Mississippi Gulf Coast Community College
2017 – 2020
Studied anatomy, biology, patient care.
Passed the NCLEX
As graduate nurse resume examples go this education section is in sickly shape. It only gives the most basic information that the employer wants.
It doesn't go into the exact tasks the candidate learned.
In other words, it's not going anywhere.
Whether you're preparing a sample resume for graduate nursing school application or writing a graduate nurse resume in Australia you must always remember that these little details count.
Make sure you do what you can to highlight your specific accomplishments clearly in this section. It only takes a couple of bullet points.
The Best Nursing Student Skills for a Resume
Training as a nurse equips you with a whole toolbox of skills.
But, which of those are best for your student nursing application?
Firstly, you should focus on how the student nurse job description can guide your resume.
These will almost always list desired skills that are wanted, which easy clues you can use to make your resume right for the job.
Nursing student resume skills can be woven into your application in lots of ways but what's important is that they appear consistently in your finished doc. This can either be in the skills section, education section, or work experience section.
Check below for more of a guide on the nursing student skills to put on a resume, if you're looking for some quick ideas.
List: Top Nursing Skills to Put on a Resume
As a new grad nurse skills on your resume really do pay the bills.
It's important to include both hard and soft entry-level nursing resume skills when you write your resume.
This is because it's not just enough to list your technical abilities on your resume – although you definitely should – you also need to list some intrinsic skills too.
Remember: Working with patients and other nurses involves teamwork, communication, and the ability to maintain a friendly, welcoming persona even in the most stressful situations.
You're going to need to get that across when you apply for jobs too.
To give you some ideas for additional skills for a nursing resume the list below can give you a few pointers on things to mention.
Soft Skills
Compassion
Good bedside manner
Organization
Concentration
Teamwork
Communication
Decision-making
Ethics
Stamina
Attention to detail
Problem-solving
Hard Skills
Patient education
Sample collection
Wound dressing
Electronic Health Records (EMR)
Vitals observation
Record keeping
HIPAA Compliance
Workplace safety
Patient care planning
CPR/First Aid
Medicine administration
How to Add Other Sections for an Effective Resume
Good jobs for nursing students are competitive. Almost like gladiatorial combat at times.
However, fortunately, you won't need a sword or to dress any wounds in a Colosseum anytime soon.
That said, your entry-level registered nurse resume or Nursing student CNA resume is going to need more than the old reliable trio of sections of work experience, skills, and education.
A resume template for nursing school applications or graduate jobs can always benefit from extra sections, that will give the employer more of a reason to give you the thumbs up.
Student Nurse Resume Sample "Other" Sections
You'll often find that the best nursing student resume examples for new graduates go that extra step when it comes to sections.
It's hard to get any of those eye-catching RN or LVN student jobs out there without some extra touches.
However, you should be careful when adding additional information. There are obviously some things you shouldn't share with an employer.
As we can see in the very sketchy example below.
Wrong ❌
I enjoy going out to bars
I like to play Xbox
I'm passionate about cigar smoking
The things listed above are all well and good to do. Just, you shouldn't share them with a recruiter.
This information is mostly irrelevant to anything you'll need to do in a nursing job. Consequently, it shouldn't really appear on a new RN resume template.
In fact, the stuff about bars could even turn a recruiter off your application entirely, if they have any worries you could have an alcohol problem.
Instead, an entry nurse resume should try and use experiences and hobbies that will sell you best as a nurse. Although, don't be afraid to add something to indicate some personality
This might include personal interests or outside work like volunteering for a medical charity or similar.
Let's see how these can be squeezed onto your document in the example below.
Right ✅
Volunteer Experience
Red Cross Volunteer, First Aid
Hudson Homeless Shelter, Patient screening
Hobbies and Interests
Walking and hiking
Yoga
Listening to Everyday Emergency podcast by MSF
Now, that's more like it!
This fits much more with what a person hiring a nurse wants to see.
With all that extra detail about how you eat, sleep, breathe nursing, you'll be a shoo-in.
Nursing school application resume examples like the one above allow you to explicitly show how complete you are as a candidate, which will put you much higher up the priority list for interviews.
You know how to be a great nursing student and all you need to do is get that into your nursing school student resume.
To make your nursing student resume PDF look absolutely spectacular to the reader, consider the following points.
If you're preparing a resume as a nursing student who's about to graduate remember to focus on detailing your practical clinical experience from your work placements and your licensure.
Don't forget to check the nurse trainee job description before writing your student nurse application. This will contain juicy details that you can use to keep your finished template in good health.
Make sure your graduate nursing student resume gives examples of things you did outside of school that tie in with nursing or healthcare.
Remember, we can help you prepare a nursing student resume for someone with no experience as a PDF.
We've got professional templates to start you off and our resume builder will help you through every step of the process. Why not give it a go-to save some time during your job search.
Happy job hunting!
Try ResumeGiants professional resume builder now
Create your resume in just a few clicks and turbocharge your job search!