Finding Remote Work and Online Jobs Guide in 2022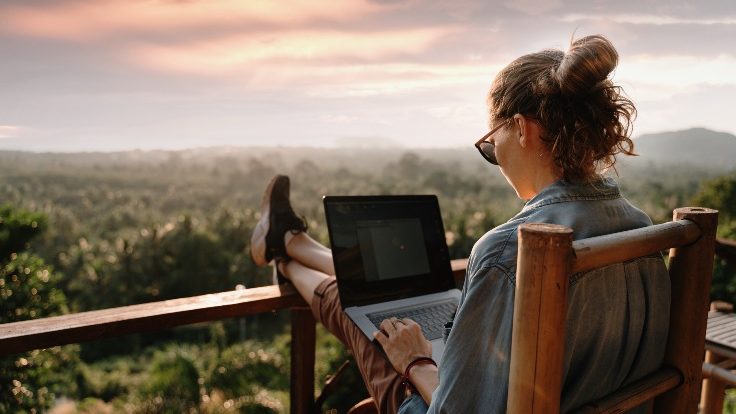 Whether you are curious to see what remote work is all about or you are, definitely, actively pursuing remote job opportunities, you may wonder what to expect from remote working, where to find online jobs, and how to write a resume to land an interview.
This online jobs guide walks you through the concept of remote work, its pros and cons, and some ways to pursue getting the kind of opportunity you want.
According to the Bureau of Labor Statistics, 65% of employed individuals over 25 years of age with a bachelor's degree worked from home in 2020. In contrast, 19% of people performed remote work duties in 2019.
The flexibility of remote work appeals to many people with diverse lifestyles and priorities, so read on to see how and why you can pursue online jobs.
What to Expect from Remote Work in 2022
Remote workers have more flexibility in where they work. Some people will have a home office set up where they live, others may appreciate the flexibility to work from multipole households or while traveling, and others might work remotely from a library or coworking space.
There are different types of remote work, including these options:
Full remote work involves employees putting in a typical 40 hours per week on their preferred device from wherever they choose to work
A hybrid approach may see certain companies allow their employees to work a few days at the office and spend the rest of the workweek operating online
Freelancers work on given assignments but do not have a specific number of hours per week or typically come into an office
Does Remote Work Fit with your Values?
Catherine Strauss, infrastructure capacity planning manager at Fastly, boils down the core values of being a remote worker into three distinct qualities:
Self-motivation is required to perform one's best work, so online employees may need a self-starter attitude to take the initiative
Communication is vital since you may not see your coworkers in person, so try keeping up to date with them through the company's chat programs
Visibility means reaching out to other coworkers, communicating with bosses regarding project updates, and showing your willingness to work with others
Pros and Cons of Remote Jobs
Pros of Remote Jobs
More time to spend with your loved ones

For instance, you can take a break from work to make a quick lunch or walk your pets, or utilize time typically spent commuting to check in with friends

Ability to create your schedule rather than following a 9 AM to 5 PM routine, depending on your company's policies

Some jobs, especially for freelancers, will let you work your preferred hours as long as you can accomplish all your tasks

Could yield less stress and better time management

Many employees report greater satisfaction with job performance and less burnout working online
Cons of Remote Jobs
Difficulty dividing home and work life may be an unintended effect of remote work

About 27% of remote workers last year reported having difficulty with unplugging from work

Responsibilities for supervising your work may fall more on the employee, meaning self-evaluation and time management skills are crucial

Those who struggle with motivation when they are not directly supervised may have trouble adjusting to this style

Isolation

Working by yourself without having teammates physically nearby discourages some people, requiring more effort for socialization with online coworkers who may be in different locations or even time zones
How to Find Remote Jobs Online
Finding a job that allows for part-time or full-time remote work could be similar to classic job searching for some people, while others may need to tailor their search more in order to find these kinds of jobs. Some people may luckily stumble upon an online job in their search for any position, but there are some ways to search for remote jobs and tailor your resume and application accordingly to help your chances.
How to Write a Resume for Remote Work
Applicants are going to be diverse: some people may be searching for their first job ever, while others may be searching for a first online job, and still others may want a new remote opportunity even if they already had one.
If this is your first time getting a remote job, you may not have the 2 to 3 years of experience that companies may list on their applications. However, you can use skills you have picked up from previous work. Using a resume builder can help you make a clear structure for your content as well as choosing the best resume format to highlight your strengths and core competencies.
First-time and experienced applicants may experience some nerves about the job search process, but finding online examples of resumes, cover letters and interview questions can help you prepare.
New jobseekers and experienced ones alike may benefit from an online resume builder or other tools that introduce structure and examples to the process.
Any job seeker can consider these suggestions:
Spend time researching the job

Learn if specific programs are needed or which apps are used they use to communicate with employees

Adjust your resume to highlight skills that work well in remote environments

Discuss projects you finished without supervision and how you worked well with other coworkers

Input complex data about your skills

Concrete numbers, such as how many articles you have written or sales numbers, provide quantitative information that your potential employer can reference

Find resume examples in your field

Research resume templates online or ask a recruiter for relevant examples to get an idea of how to structure your work experience
Writing a Cover Letter
If a job application requests one, you can use your cover letter to detail practical examples of the skills from your resume. Consider these suggestions to tailor your content for an online job:
Bring up practical examples of the skills listed in the resume; while this may be true for any job, you can emphasize stories that support self-motivating, taking initiative, and communicating clearly
Explain how remote work fits your personality and why previous work experience prepared you for a transition to an online environment
Highlight strengths and weaknesses, like emphasizing that you reach deadlines without fail but want to learn how to adjust to a remote environment
Put Together a Portfolio
Depending on your field, providing a portfolio may be necessary. When you are applying for an online job, the portfolio can exemplify everything you have discussed in the cover letter and listed in the resume, which you may build with the help of an online resume builder.
Portfolios for digital marketing or content writing may display the best pieces of coding or well-researched articles of which you are most proud. This is an opportunity for people in more visual careers to show off your brand by illustrating designs you have come up with, how you market your content, or reviews of freelance projects from clients.
Moving Forward with Remote Work
Understanding if working from home is right for you, how to find remote jobs online, and how to outfit your application materials can help you take the first steps toward finding flexible work opportunities.
Deciding that you want to prioritize or require remote work can mean tailoring your cover letter, resume, or interview a little differently while job searching, even if the rough steps of job searching, applying, interviewing, and accepting still apply.

Looking for work may take some time and can even feel discouraging. If you think you are doing everything right but you are not having any luck, you may need to shake up your search sites or improve your application materials. Services you never considered before, like using an online resume builder, following resume templates, or practicing interview questions specific to online work, might make a positive difference.